INJURED DUE TO A TRUCK ACCIDENT?
NO FEE UNLESS YOU COLLECT
No Upfront Cost – Pay ZERO Fees of Any Kind Until After Your Case Settles
We Guarantee $$ in Your Pocket Or Waive Our Attorney Fees
Get Medical Diagnostics & Treatment if Injured in a Truck Accident with $0 Out of Pocket
And With Our Discounted 29% Contingency Fee, You'll Get More $$ in Your Pocket Versus the Standard Personal Injury Attorney Fee of 33.3%-35%
FILL OUT THIS FORM TO REQUEST YOUR FREE CONSULTATION NOW
Fast Attorney Response

Seriously Hurt? We'll Come to You!
Gina West ★★★★★ These are professional people who really do care. I called them for the first time on yesterday about my vehicle accident and Josh represented the firm with compassion. He listened, explained that someone would be contacting me today and minutes later Matt called me. I was given the option of an appointment the same day or early the next morning at my home. Matt provided me with his direct contact phone number and his email address. It's with 27 years of serving, training and experience in the United States Air Force that I give this law firm the highest recommendation. Grateful indeed, Gina W.
Marvinette Monroe ★★★★★ I can't say enough about Josh and the team at Mullen & Mullen with assisting with my motor vehicle accident in Dallas, TX. They're consistently courteous, professional, and provide exceptional service. I will recommend their team for any motor vehicle accidents and slip & falls.
Amber Burnett ★★★★★ Mullen & Mullen assisted my husband when he was injured in a motor vehicle collision on Main Street. They are absolutely wonderful Frisco personal injury lawyers. They assisted him in getting the medical attention he needed following the wreck. When it came time to negotiate with the insurance companies, they wouldn't take no for an answer. Our attorneys kept the heat on until they finally had to do the right thing. I feel like a lot of firms would have given up and recommended a lawsuit right away but Mullen & Mullen attorneys are super ethical and determined. They were eventually able to help my husband get almost the full available policy limits without the stress and time associated with a lawsuit. If you need a Frisco car accident attorney these are the injury lawyers you should call. Highly recommended!
Chad Burnett ★★★★★ I hired Mullen & Mullen following a motor vehicle collision. I could not be more pleased with the Dallas personal injury lawyers I selected. They are the real deal! I was always kept in the loop on case developments. My attorneys sent the at-fault liability carrier multiple demands to make them agree to pay the policy limits. My lawyers also sent my own insurance company several demands to get them to offer me nearly the policy limits. A lot of attorneys would have given up and just recommended filing a lawsuit but Mullen & Mullen kept pounding the insurance companies until they did the right thing. This saved me a tremendous amount of money and time. I'm so very grateful that I found ethical, tenacious, and skilled attorneys to represent me. Mullen & Mullen gets my highest recommendation if you need a Dallas car accident attorney.C. Burnett
Diane Wallace ★★★★★ Mullen and Mullen did an absolutely brilliant job representing me in an injury lawsuit and getting me maximum settlement results. I recommend them highly!
Mari Hks ★★★★★ Highly recommend this law firm, Josh took care of my case he was very nice and professional along with everyone else.
Cayleb Murphy ★★★★★ Honestly 5 stars doesn't do them justice. Had an amazing experience working with Mullen and Mullen. I really felt taken care of throughout the entire process. Greg was especially nice to work with, he provided me with updates and answered all my questions whenever I had them. Would definitely recommend!
Zac Canida ★★★★★ I'm only 22 and this was the first case I've ever had, I got recommended Mullen and Mullen by a friend who has used them plenty of times and said nothing but good things about them. I have yet to see or hear anything that contradicts her statements! Everyone on the Mullen and Mullen team has been super helpful and kind to me by explaining everything that had and needs to be done to get the case in the right direction. Greg especially has been very helpful by keeping me updated and answering any questions I might have about the situation, he's been an amazing help and I'm glad I was able to get him assigned to help me get what I deserve from my car accident. Very professional and fast responses, If you are ever injured in a car accident I 100% recommend this team to fight for you, ask for Greg!
Tossem'Up52 ★★★★★ Wow! What a Great Law Firm Mullin and Mullin. I was in an accident not long ago and if there's ever a misfortune in my life as such, Mullin and Mullin will be the Law Firm that I choose again to take care of everything. Thank you Mullin and Mullin again for everything.
sisay Abera ★★★★★ Highly recommend this law firm, filled with very nice and professional people who put their clients first. Josh took care of my case and were able to reduce my medical bills significantly which was awesome! Very pleased and glad I had them to work on my car accident case.Thank you, Mullen & Mullen Law Firm
clara johnson ★★★★★ I was involved in a personal injury car accident in Dallas Texas, l worked with Josh and Jessica, they were fantastic. If I ever need help again l won't hesitate to contact them again.
Kimberly Palmoore ★★★★★ The best Accident Attorney's in the whole metro plex. Thanks Mr Morrison.
Terrie Rachall ★★★★★ Joe Morrison with Mullen and Mullen was fantastic representing me for an injury on someone's property. He kept me updated through the entire 2 year process. If I had any questions, Joe took the time to personally take my call and provide answers. Joe negotiated a settlement very quickly and ensured I received a fair settlement. I highly recommend Mullen and Mullen and would hire them again if I need help in the future. Best experience with any lawyer I have ever had!!
Caryn Bonosevich ★★★★★ Mullen & Mullen is awesome! Joseph and Erika made the process simple. I am thankful for the personal service I received.
Andrew Brown ★★★★★ Shane Mullen helped me with a complex medical malpractice case. His commitment to my case and attention to detail led to a favorable outcome. I highly recommend Shane and the Mullen & Mullen Law Firm.
Alex Malcolm ★★★★★ I was injured in a motorcycle accident, and Shane Mullen took on my case with determination and empathy. His attention to detail and commitment to my case led to a favorable outcome. I'm grateful for his hard work and highly recommend Mullen & Mullen Law Firm.
Christopher Castillo ★★★★★ I was involved in bad accident, Thanks to Jessica and Josh from mullen and mullens they help through the whole process. Help me get treatment and really took care of me. Help get back on my feet I really appreciate them.
R Brown ★★★★★ I have had such a wonderful representation under Joseph Morrison. He is a injury lawywer from Dallas and represented me on a case with several parties in a car accident. He worked hard, efficiently and quick to get me help and get the case settled. He is such an amazing attorney and his office staff is A+!
Natasha Malone ★★★★★ I had the honor to work with Mr. Morrison and his team recently and he was a life saver. He was thorough, detail oriented and down to earth as they come. He knows his law and doesn't make you feel like a number in line, but like a human. You can't go wrong with direct access and a discounted rate, I made the right decision and you will too.
Roison Fox ★★★★★ They helped me out of a tough situation, and never stopped fighting for what I deserved. I am so great full to have them as my law firm when I got in a bad wreck, I highly encourage they will support and guide you through out it all.
falisha jones (l0velisha) ★★★★★ I was involved in a car accident in Dallas texas off mockingbird. I was T bone by someone who had ran a red light. Me being a young female, I felt lost and taken advantage of by the other parties insurance.I chose Mullen Mullen because they were the only law firm who physically wanted to meet me and hear my side. They helped me with all on the medical assistance that I needed . Although it was a lot of therapy, I was really happy with the doctors they sent me to. Josh was very welcoming and I honest in the process. Every time I felt so at ease after speaking with him. I am so happy I had him on my case. Very hands on. Highly recommend!!!
Jacob Colerick ★★★★★ I cannot express how much Mullen & Mullen helped me turn a rough situation into something I could get through and manage properly.I was in a car accident on the way to work, and had chosen Joseph Morrison to represent and advise me on the matter. He provided me with solid advice and the right information to make educated decisions in the process of recovery. He was also extremely responsive and forthcoming whenever I had any questions. I had very little experience in legal matters so everything was new to me. Joe walked me through all the steps, helped coordinate my appointments with the right doctors, and definitely went above and beyond expectations. I am more than pleased with the outcome and would recommend both him and this firm to anyone!
Lisa Tennant ★★★★★ I want to share our experience with Mullen & Mullen who Truly is a five star law firm.My daughter was involved in a serious accident she was 8 1/2 months pregnant and she suffered serious injuries and lost her baby.The person that hit her had no drivers license and no insurance.Not deterred by this Joseph Morrison was masterful at working our case. He was able to get our insurance company to agree to the maximum settlement under our uninsured/underinsured coverage. In addition he was also able to get our health insurance company to drop a huge lien against our settlement.Joe Morrison and his team were so empathetic to our situation. Even though there are limits to what you can be awarded under uninsured/underinsured they never made us feel unimportant.They fought for us and we felt as though they truly cared about us and wanted to have the best possible outcome.Joe Morrison was a true champion for our family and we highly recommend him and their firm.We are so glad that we chose Mullen and Mullen and so grateful for the quality services they provided.We all feel they are the best choice among many and were the right choice for our family.
Richard Taylor ★★★★★ I cannot say enough good things about Mullen and Mullen, they are the best in the business! With a permanent neck injury, after already having a discectomy, my future was looking very dark. They got the full term limits from all parties and gave a light for my future instead. Always professional, and the best I've ever seen at answering concerns, and returning phone calls and messages. They are not just a cut above, they are the gold standard of what great attorneys should be. I especially want to thank Joe Morrison and Rosa, you are tops. Thank you both so very much.
Klaus Dausmann ★★★★★ Mr. Joseph Morrison represented my daughter during that difficult time did not only get the professionalism that we needed but also a insurance of true empathy and respect for us as human beings. not one time did I feel that I am just a case. outstanding performance and customer service.
I would recommend Mr.Joseph Morrison to my family and friends with good cognition
Ms. Macias 2A ★★★★★ They really took care of me and did everything possible for me to get the most out of my accident! Highly recommend! Friendly staff that genuinely cares about you and makes you feel like they'll do do anything in their power to help you.
Paul Nolan ★★★★★ I've consulted with Joseph Morrison on a number of legal issues. He's a fantastic attorney and I highly recommend this firm.
Stephanie Hull ★★★★★ Shane is a great lawyer. Him and his team were very understanding, professional, and informative. They deserve more than 5 stars and were great to work with. Thank you Shane!
Veronica Da Ponte ★★★★★ The Top Choice community thanks you for your dedication to your city and celebrates your 2020 win with enthusiasm!
Ellis Leigh Gardner ★★★★★ Josh Banks at this law firm did such a wonderful job helping me with my case that started in 2017. It may have taken some time, but he was very meticulous and made sure he had everything ready to go. I definitely would recommend him to anyone that is in need of a good lawyer!!
Nathan Neto ★★★★★ As a 2019 Top Choice Award Winner, they have proven their dedication to their city by consistently providing excellence through their services. 5 stars!
Dyvine Silvestre ★★★★★ They won the 2019 Top Choice Award for their excellence in the pursuit of top customer satisfaction and that equals to hundreds of great customer reviews! Thank you for sharing your passion with your beautiful city!
Tami Gray Jordan ★★★★★ I am thankful to this law firm. Mr. Shane Mullen is not just an impressive and talented attorney, he also treats a person with respect. He takes his job very seriously, and he is compassionate with a case he takes on. To add, his assistant is awesome. Thanks!
Roy C. ★★★★★ The handling of my case from a car wreck incident from the beginning, Josh Banks always had time to answer my questions and would give me updates when I asked. Aside from injury that I sustained, I always felt supported because they proved to me that they where working for the best interest of my situation and needs. I do not know what I would have done without you guys! Especially you Josh! I appreciate your kindness, patience and professionalism. The settlement amount was enough for my future concerns to help me reestablish myself because of my continued long term effects from the accident. Thank you so much!!!
Laura Servidone ★★★★★ Mullen and Mullen, was the law firm I choose to represent me for a commercial accident case. I worked specifically with Joe Morrison who went above and beyond to help get a settlement during the most difficult time in my life. I was in and out of the Hospital for a year. Surgery was necessary immediately on my hand, also suffering from multiple herniated disks, 5 hematomas, and stiches where my left eyebrow used to be. I feel blessed to have such a competent law firm and lawyer on my side. Thank you Joe!
Laura Villa ★★★★★ I am beyond grateful to this law firm and especially to Josh Banks. Josh delivered the greatest news several weeks ago. He notified me that my case had settled for an amount that I never imagined!!! Thank you Josh for suggesting to wait it out. This money couldn't have come at a better time. If yall only knew how many sleepless nights I had worrying how my situation would end. Thank you, thank you, thank you!!! Oh and by the way Josh I will be plugging in your number into my telephone and I will definitely be recommending you to anyone who needs representation!!
Tape Mastah Steph ★★★★★ Mullen & Mullen are 100% true honest life savers.. They deserve 10 Stars!! Thank you for everything, Shane. You're the best! - Stephan
Danielle Johnson ★★★★★ Mullen & Mullen is an awesome law firm and they are very professional and provide excellent service would give them 6 stars if it was possible and I want to add a special thanks to Josh Banks who was with us every step of the way and made sure I was taken care of through this rough time.
Jessica Cullum ★★★★★ Josh Banks is awesome to work with! Mullen and Mullen is such a great law firm!!
Kyshia Roney ★★★★★ I really love MullennMullen law firm they really came through for me when I need them the most Joshua banks was able to get me back more then though I would get back. He returns my phone calls the same day and explain everything very well I highly recommend them.
Good Life ★★★★★ I must admit before choosing Mullen & Mullen. I took advice from a friend who insisted that I contact another law firm who's name I was very familiar with, from constantly hearing there commercial on the radio. When I called the other law firm they set me up an appointment to come in an speak to someone. I went and was very impressed with how nice there office was, however I was not impressed with how much there fees where. Let's just say that I could see why the decor was so nice after I learned what they would charge me for representation. I politely declined and limped right out of there office. I then went home and started doing my own research online going from one firm to another, reading review after review and came across Mullen & Mullen. I called the office explained my situation just as I had done with the other law firm and the first thing that the lady asked me from Mullen & Mullen was would I like to come in? or Would I like for someone to come out to my home to talk with me? They sent someone out, he answered all of my questoins. He was very thorough and professional so I was only a little impressed at this time, until he explained to me what there fee would be. And that's when I became even more impressed. I was told that a Mr. Josh Banks would be contacting me and would be handling my case. Mr Banks always kept me informed with what was going on and would check to see if I was satisfied with the services that I was receiving. He also got me the maximum amount that I could receive without charging me an arm and a leg, the process didn't take long and I didn't have to go into some fancy smancy office. Over all my experience with Mullen & Mullen has been great! Keep up the good work Mullen & Mullen!
Debbie Wilson ★★★★★ Truly great firm! Joseph Morrison went the extra mile to secure great results in a timely manner. I feel lucky to have found the firm and highly recommend, thanks again Joe!
Joyce Terry ★★★★★ Josh and Jessica did an awesome job working on my case and got me the settlement I deserve. Other staff member were great and welcoming.
Mason DuPont ★★★★★ Shane assisted me with my second case and much like the first one, was very informative and got me taken care of better than I'd hoped for. I recommend this law firm to anybody that would need an attorney!
Talia Lozano ★★★★★ My husband and I worked with Joseph at Mullen & Mullen, he was extremely sincere and personable, he did everything he said he would and always followed up when promised. Mullen & Mullen took care of us from the very beginning making everything extremely easy to get the help we needed. It was our first time having to go through something like this and Joseph took care of us the whole way. We also had a recent bankruptcy due to loss of job, and Joseph was able to work with the trustee to get us even more than the court's exception would allow in our particular circumstances.My husband also wants to shout out to "Mike", the original representative we met with after our accident, he was extremely knowledgeable and made everything feel right when signing on with Mullen & Mullen, and gave us the confidence we had nothing to worry about.We were referred by my brother Carlos L. who went to school with Mr. Mullen's son and are glad we took his advice!
Stacey Lawrence ★★★★★ I cannot say enough about Mullen & Mullen... I've been working with Shane Mullen and from the beginning he has taken the time to answer all of my questions and explain the process to me in terms which I could understand. He has personally called me through all of this giving me updates and advising me of my options. Other than showing up to my rehab appointments, Mullen & Mullen has done everything else.I am very grateful that I looked at the reviews such as this one and decided to give them a call because it has truly worked out in my favor.Thanks Shane!
Deon Johnson ★★★★★ Definitely the best in the business. It is seriously a team effort with the Mullen and Mullen law firm. I hope No one has to go through a situation like mine but if you do I strongly recommend going to Mullen and Mullen . You will rest a lot easier knowing they have you back .
Allie Farooq ★★★★★ We were hit by a drunk driver in Mesquite Texas, and immediately went to google search to find an attorney at the scene. We were very apprehensive because we had never been in this type of situation, and never had hired an attorney for a car wreck. We solely chose Mullen and Mullen based on their 5 star review. We are so glad we made this decision! We were both hurt bad and had to see doctors and go through physical therapy. Joseph Morrison handled our case and was so extremely caring and understood our pain, he took his time with our case. Every time I called, he answered, and spent so much time on the phone answering each question. He made sure we got all the treatment necessary before closing our case. We were extremely pleased with the end and will always call if we ever need him. My husband told me it's so easy and they are so nice it makes me nervous. We learned it really was just easy! They really did have our best interest at heart. Our neighbor had a similar wreck and we told them to call and they didn't. They lost so much and the wife still has pain to this day. She always says to me we should have called.
Brittany Puckett ★★★★★ I want to thank Joseph with Mullen & Mullen for being the best attorney anyone could have asked for. He worked very hard in getting the medical help I needed after my auto accident. He made me feel like I was his only client. He kept me informed on what was happening during my case and truly cared about my health care needs. His hard work and legal knowledge helped me in getting the insurance limits for pain and suffering allowed. It was more than I expected. Thank you for everything you did for me. I highly recommend Joseph Morrison with Mullen & Mullen Law Firm.
Kimberly Greer Nichols ★★★★★ I hired Shane Mullen as my personal injury lawyer for a slip and fall case. I hired them because of the positive reviews they had as well as the amount of experience. I was not disappointed. Shane and Mullen & Mullen did a great job for me and I couldn't be more pleased.
Razieh Shoorab ★★★★★ As a future chiropractor who also works for a successful chiropractic office, I deal with many personal injury cases as well as different lawyers. Hands down Mullen & Mullen has been the best. They really do take their business to a personal level. After a screening call from one of his assistance, it was the next day that Shane Mullen called me. I will never forget our first conversation and one thing in particular that he said to me. I said, "This is the first time I am talking with you but I trust you so much" and he replied: "I Fully Trust Myself Too." That was what I wanted to hear. I wanted to make sure that my lawyer is confident and my case is in good hands and with that settlement he proved his confidence and competence. As an experienced client I suggest that if you ever involve in an accident and need an attorney, do yourself a favor and call Shane Mullen. He will represent you with a passion for justice. Thank you Shane, you are amazing!
Razieh Shoorab ★★★★★ There is no way I can express my gratitude towards Mullen & Mullen law firm. Working with them has been by far the best legal experience I have ever had. I was not a million dollar client but was treated like one. I am so grateful that my case was accepted by them and very thankful that I have been awarded a great and beyond imagination settlement because Shane Mullen fought for me relentlessly. I highly recommend everyone to give him a call before turning into any other lawyer. Great job and Thank you again!
Danielle Valentino ★★★★★ I had used them before and I delt with Shane Mullen and I can say by far the BEST lawyer I have used! Helped me tremendously! If you need a lawyer call them. Hands down the best!!!!!
Diane MacNeil ★★★★★ Having Shane on your case is like sending a pit bull after any other dog - they may "bow up" to try to look bigger and stronger, but the pit is going to win in the long run!
Milagros Yates ★★★★★ This is the best law firm in Dallas Tx. This is my second case with this law firm, If I ever have another case I will go right back to him.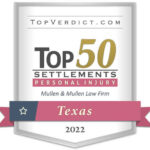 Not only do we offer the lowest fee, according to TopVerdict.com, our Frisco truck accident attorneys obtained 43 TX "Top 50" personal injury settlements in the last 3 years. We will maximize your compensation, and you will pay ZERO until after your claim settles. Just call (214) INJURED now to talk to an attorney who cares, or use the form or chat feature on this page to request your free consultation.
Top Truck Accident Lawyers in Frisco Who Settle for More
YOU CAN TRUST OUR FAMILY TO FIGHT FOR YOURS™
If you were hurt in a commercial vehicle or big truck accident, our skilled Frisco attorneys fight tenaciously to ensure the maximum available settlement while offering you the lowest contingency fee. We handle your case the way we would want our own case handled.
Mullen & Mullen is consistently recognized by TopVerdict for obtaining some of the largest recoveries in the entire state of Texas. In the last 3 years our firm made the Texas "Top 50 Personal Injury Settlements" list 43 times. One of those years we had 19 of the "Top 50" results and all of them were for clients injured in motor vehicle accidents. Our stellar results allow us to offer a below industry standard 29% pre-suit contingency fee which means more money in your pocket.
Our experienced local team has an incredibly strong work ethic and truly cares. We've been privileged to serve North Texas for over 40 years. This is our backyard. Call (214) 529-3476 now for a free consultation and some excellent advice.
A Message From Our Managing Partner
"We hold commercial drivers to a higher duty of responsibility – these are supposed to be professional drivers."
Accidents involving commercial vehicles demand swift action due to the aggressive tactics employed by insurance companies. Often, defense attorneys and crisis teams are dispatched immediately to minimize the company's liability and influence investigations. If you've been injured in such an accident, these companies are already working to delay, deny, defend, or dismiss your claims.
Crucial evidence in these cases tends to conveniently disappear, emphasizing the urgency of the situation. That's why, once Mullen & Mullen takes on commercial cases, we promptly send detailed spoliation letters and demands to preserve specific evidence.
Unlike many firms that only bring in experts after a lawsuit is filed, we regularly engage professionals such as accident reconstructionists, life care planners, and vocational rehabilitation consultants early on. We conduct inspections and extract data from the electronic control modules of involved vehicles. These proactive measures significantly enhance the likelihood of securing an early settlement within the insurance policy limits, sparing you the stress and expense of prolonged litigation.
Surprisingly, some attorneys remain uninvolved in a personal injury case until it's almost ready for presentation. By then, crucial details cannot be altered. At Mullen & Mullen, our clients have continuous access to their attorneys, right from the case's inception. Most importantly, our clients are provided with their attorney's personal cell phone number for direct communication.
Additionally, it's essential to have legal representation with profound medical knowledge. Establishing a connection between your injuries and the accident might seem straightforward but is often complex. Certain injuries don't manifest on imaging studies. In some cases, an MRI may reveal various conditions, making it easy for commercial insurance companies to attribute your pain to pre-existing issues rather than the actual injury. Without clear and acute objective findings on imaging studies, they may argue that you're not genuinely hurt.
Consider a recent case we handled, where our client's MRI appeared normal. We successfully argued that her lack of findings was due to facet joint syndrome, a clinical diagnosis not solely reliant on imaging. By presenting her prior medical records that showed no prior complaints of similar symptoms before the accident, we built a compelling case. Despite her pain having temporarily resolved, we worked with a certified lifecare planner expert to calculate her future medical costs, considering the possibility of recurrence. The result was a remarkable recovery of the full remaining liability policy limits, totaling $968,844.03, achieved without the need for litigation.
This achievement was possible due to our in-depth understanding of our client's specific injury, highlighting the importance of expertise and personalized attention in navigating the complexities of commercial vehicle accident cases.
Shane Mullen, Attorney at Law
Our Results Speak For Themselves
(Gross Settlements Before Fees & Expenses)
We have achieved numerous multimillion-dollar settlements across all practice areas, but we are restricted from displaying some very large results due to settlement confidentiality. Here are a few recent results without confidentiality agreements:
$4,000,000.00 Wrongful death involving auto accident
$2,978,104.95 Motor vehicle accident
$2,550,000.00 Motor vehicle accident
$2,550,000.00 Client needed surgery after an automobile collision
$2,024,050.73 Client hit by a drunk driver and sustained a TBI and multiple broken bones
$1.3 million Client hit by commercial driver who sustained a TBI
$1 million Client hit by inattentive commercial driver
$1 million Client hit by negligent commercial motorist
$978,569.77 Client hit by commercial driver
$996,292.00 Client hit by truck driver
$960,576.60 Commercial driver hit by another commercial driver
$954,543.87 Commercial driver hit by another commercial driver
$925,000.00 Client hit by an inattentive motorist
$845,000.00 Client hit by truck driver
Success Story: Winning a $962,500 Settlement for a Neck Injury in a Commercial Truck Accident
To witness our legal expertise in action, take a moment to delve into this concise narrative detailing how a client secured a substantial $962,500.00 settlement for a neck injury sustained during a commercial truck accident:
While traveling west on US 287, a truck driver negligently executed an unsafe lane change without due attention. This reckless maneuver resulted in a collision with a motorist, who consequently suffered a neck injury. It's worth noting that the injured party had a prior history of significant spine surgery in her medical records.
Regrettably, insurance companies often exploit pre-existing conditions to minimize their liability. In this case, it was anticipated that the insurer would argue that some of the injuries sustained by the driver were attributable to her previous major spine surgery.
Nevertheless, under Texas law, the "Eggshell Doctrine" prevails, meaning that the plaintiff is to be accepted as they are, pre-existing conditions notwithstanding. This implies that compensation should be awarded for all injuries directly attributable to the accident, regardless of whether pre-existing conditions exacerbate them.
To bolster the client's case, Shane Mullen recommended comprehensive documentation of any newly emerged or intensified symptoms. Consequently, the client obtained medical records confirming the emergence of fresh symptoms subsequent to the accident. The client underwent multiple laminectomies to rectify damaged vertebrae.
When negotiations with the insurance company commenced, their predictable argument revolved around the impossibility of the accident's force necessitating surgery. Shane Mullen countered this by emphasizing the documented emergence of new symptoms and underlining the fact that even a moderate accident could exacerbate pre-existing injuries.
The culmination of this diligent effort was the insurance company's agreement to a settlement of $962,500.00. What's more, the client benefitted from a reduced 29% case fee, resulting in savings of $70,000, as her claim was resolved without the need for a lawsuit.
Were you or a loved one injured in a truck accident?
Because of their massive size, semi-trucks cause more damage, death, and catastrophic injuries than car accidents.
And now you must deal with the consequences of the driver's negligence. You have a mess of high medical bills, lost income from work, time lost with your loved ones, and perhaps an intense fear of driving near semi-trucks.
You also have another problem. One that you may not have even considered.
That lies in finding a truck accident attorney in Frisco who cares enough to win you the max compensation you deserve.
Because not all truck accident lawyers in the Frisco area do. In fact, many firms allow a senior attorney to supervise a case while inexperienced junior attorneys and paralegals do all the real work.
Others work as fast as possible to maximize their own profit. They'll win you money. But they leave a lot on the table too. And sometimes, that's more than six figures!
In both cases, you and your case don't get the time and attention deserved.
That's where the truck accident lawyers at Mullen & Mullen come in. As a small firm of three attorneys, each with more than a decade of experience, we take the time to scrutinize every detail of your case.
In fact, one of our seasoned lawyers does all the real work on your claim. That's because we don't employ a single paralegal or inexperienced junior attorney.
You can trust Mullen & Mullen Law Firm to give you the greatest opportunity to win the most money possible for your injuries.
That's because we have a stellar reputation. But don't take our word for it.
Leading legal organizations and publications such as Thomson-Reuters' Super Lawyers, The National Top 100 Trial Lawyers, Multi-Million Dollar Advocates Forum, Forbes, Newsweek, and others have mentioned us.
And for more proof, just Google "Mullen & Mullen Dallas" or "Mullen & Mullen Frisco" to read hundreds of nearly perfect client reviews.
A Little About Our Highly Skilled Attorneys
Managing Partner, Attorney Shane Mullen
Managing Attorney, Shane V. Mullen has been handling truck accident cases for 21 years. He is "Top Rated" by Thompson Reuters who named him as a Texas Super Lawyer 3 consecutive years. Shane is also a lifetime member of both the Million & Multi-Million Dollar Advocates Forums, solidifying his expertise in handling significant cases. He is also an esteemed member of Rue Ratings' Best Attorneys of America, further attesting to his exceptional legal prowess. Shane brings hard-won, battle born knowledge to your case.
Senior Associate Attorney, Joseph Morrison
With 18 years of truck accident experience, Attorney Joseph R. Morrison has established himself as a highly skilled legal professional. Notably, he served as counsel of record in a case that garnered recognition from VerdictSearch.com as a top 5 Premises liability (slip and fall) settlement in Texas. The defendant in this case was a Fortune 500 company with an annual revenue exceeding 11 billion. The specific case, Jeffrey Young v. ConAgra Foods, Inc., showcased Joe's exceptional abilities in achieving favorable outcomes.
Joe is a distinguished member of The National Trial Lawyers: Top 100 Civil Plaintiff Trial Lawyers, solidifying his standing among the nation's most esteemed legal practitioners. Furthermore, his membership in both the Million & Multi-Million Dollar Advocates Forums further attests to his expertise in handling substantial cases.
Founding Attorney, Regis Mullen
Attorney Regis L. Mullen, our Founder, received his Admission to practice law in 1967 and has 56 years of truck accident experience. Previously a Litigation Supervisor at Allstate Insurance Company, he knows all the tactics liability carriers use to deny or reduce personal injury settlements. Drawing upon his profound comprehension of the inner workings of the insurance industry, Regis established a law firm dedicated to meeting the legal needs of injured individuals in North Texas.
Special Savings and Bonuses You Only Get with Mullen & Mullen
Besides our proven legal expertise, you also get a few benefits other truck accident lawyers in Frisco don't offer:
Only pay your medical bills after you win your claim. If we take your case on, you get access to medical professionals and institutions who won't bill you until after you win your claim. These are specially negotiated relationships unavailable with other law firms. You don't pay anything out of pocket up front, even if you don't have health insurance. Instead of dealing with dozens of bills and service providers, spend your time focusing on your recovery instead.
Pay just 29% of what you win (instead of 33.3%). Most truck accident lawyers charge 33% of what you win as their final case fee. With Mullen & Mullen, you pay just 29%, as long as your claim settles out of court (and about 90% of ours do). That's a lot more money in your pocket.
Lower costs to assemble your case…and the savings get passed on to you. It takes time and money to put your legal claim together. And sometimes, it takes a lot of money. To reduce your costs, we employ an in-house private investigator, Mike Foster. Most truck accident attorneys in Frisco subcontract these services, which costs more. In addition, Mike has been with us for more than a decade and knows how to ask the right questions to dig up the most effective evidence that gives you the best chance of winning the most money possible.
Top Choice Awards presented us with "Top Choice Injury Law Firm in Dallas" five consecutive years.
Get Your Free No-Obligation Consultation
Trucking companies, their attorneys, and insurers don't want to hear they have to face Mullen & Mullen.
During your free consultation, you'll learn exactly what we think we can do for you. And you'll get all your questions answered.
You can just sit back and relax because we understand how much stress is on you. And there's also absolutely no obligation to hire us on the spot.
Simply learn our opinion. And then decide who to hire when you feel ready. Many clients learn new legal strategies other firms overlook.
Schedule your free consultation today when you call (214) 529-3476.

What Our Attorneys Do to Prove Your Claim
No truck accident claim is easy to prove. Trucking companies know their drivers will cause accidents. And these accidents can potentially cost them a lot of money.
So, they have smart lawyers and insurers who know how to dig up every detail possible that reduces or eliminates what they have to pay.
Basically, you have to show:
The truck driver acted in a negligent way or that they violated Federal laws
That negligence led to your injuries
Especially important are any pictures and videos you have of the crash scene. A police report will come in handy too. And eyewitness testimony can be extremely powerful. In addition to those basic forms of evidence, these can be helpful too:
Black box recorder data – Many, but not all, trucks have a black box that records their speed, braking patterns, driver identification, and fuel consumption. Surprisingly, the most useful thing they record is the number of hours the truck driver drove. They may have driven more hours than allowed by Federal law, which is a big no-no and extremely valuable when it comes to proving your claim.
Camera footage – Again, many but not all trucks have a camera. This can show the driver was distracted – eating, texting, talking on their cell phone, or whatever else they might have been doing. However, trucking companies may intentionally damage or destroy this evidence. If you act quickly after your truck accident, your lawyer will send a spoliation letter which legally obligates the trucking company to not destroy evidence and imposes penalties if that does happen.
Drug and alcohol test results – Federal law requires truck drivers to undergo drug and alcohol testing immediately after any accident that causes physical injury or death, even if drugs and alcohol aren't necessarily suspected to be the cause of the accident. Truck drivers are held to a higher standard of .04% BAC or lower (compared to .08% for everyday citizens). And just like regular citizens, they can't be under the influence of any illegal street drugs.
Driver logs – Truck drivers do have to make detailed records of how long they drove, the number of breaks taken, resting hours, and inspections of the condition of their truck. Frequently this reveals the driver was driving too long without a break or that the truck wasn't properly maintained.
Truck driver records – Trucking companies must keep detailed records regarding the performance of each of their drivers and their truck. The records include maintenance and inspection, the driver's driving history (which includes accidents), training procedures, and much more. Sometimes this shows the trucking company hired or retained a driver they shouldn't have.
NTSB Investigation – The National Transportation Safety Board (NTSB) sometimes investigates extremely serious trucking accidents. They only take on the most severe ones. They accumulate highly detailed information that can be crucial to winning your claim. And it requires a skilled attorney to get a hold of that information.
Accident Reconstruction Expert – Sometimes defendants think they have enough evidence to effectively dispute your claim. When that happens, we may choose to hire an accident reconstruction expert to analyze your evidence and overcome the defendant's arguments.
Another potential area for investigation lies in the securement of the truck's cargo. Truck drivers have a legal obligation to inspect their cargo prior to transport and at regular intervals during transport. Should a truck driver fail to do so, whatever the reason, they may be held liable for your injuries and damages.
Schedule Your Free No-Obligation Consultation with Our Frisco Truck Accident Lawyers Today
Make no mistake about it. Trucking companies and their insurers care more about the bottom line than paying you for your injuries and damages. They have entire legal departments dedicated to minimizing or eliminating what they should have to pay.
So, it's a wise move on your part to hire the best truck accident attorneys Frisco can offer. And when you choose Mullen & Mullen, you truly do get the best in Frisco.
And remember to act as quickly as you can because many trucking companies will destroy evidence so they can win the claim.
Contact Us for a Free Consultation
Call (214) 529-3476 to talk to a Frisco truck accident attorney right now. We won't put any pressure on you to hire us on the spot. Simply learn how we'll approach your case and get some excellent free advice. Make your decision only when you feel 100% ready. Do remember though, that the Texas statute of limitations gives you just 2 years from the date of your accident to file a claim.
We'll come to your home or hospital room if it makes it easier on you! Phone and Zoom consultations are also available. You can call us, or use the form or chat feature on this page to request a free consultation now.
FILL OUT THIS FORM TO REQUEST YOUR FREE CONSULTATION NOW
Fast Attorney Response

Mullen & Mullen Law Firm in Frisco, TX
2770 Main St #258
Frisco, TX 75033
(214) 529-3476
Seriously Hurt? We'll Come to You!

Find Our 350+ 5-Star Reviews Here
Popular Links
Truck accident attorneys in Plano, TX
Truck accident attorneys in Dallas, TX