INJURED DUE TO A TRUCK ACCIDENT?
NO FEE UNLESS YOU COLLECT
No Upfront Cost – Pay ZERO Fees of Any Kind Until After Your Case Settles
We Guarantee $$ in Your Pocket Or Waive Our Attorney Fees
Get Medical Bills & Treatment if Injured in a Truck Accident with $0 Out of Pocket
And With Our Discounted 29% Contingency Fee, You'll Get More $$ in Your Pocket Versus the Standard Personal Injury Attorney Fee of 33.3%-35%
FILL OUT THIS FORM TO REQUEST YOUR FREE CONSULTATION NOW
Fast Attorney Response

Seriously Hurt? We'll Come to You!
Gina West ★★★★★ These are professional people who really do care. I called them for the first time on yesterday about my vehicle accident and Josh represented the firm with compassion. He listened, explained that someone would be contacting me today and minutes later Matt called me. I was given the option of an appointment the same day or early the next morning at my home. Matt provided me with his direct contact phone number and his email address. It's with 27 years of serving, training and experience in the United States Air Force that I give this law firm the highest recommendation. Grateful indeed, Gina W.
Marvinette Monroe ★★★★★ I can't say enough about Josh and the team at Mullen & Mullen with assisting with my motor vehicle accident in Dallas, TX. They're consistently courteous, professional, and provide exceptional service. I will recommend their team for any motor vehicle accidents and slip & falls.
Amber Burnett ★★★★★ Mullen & Mullen assisted my husband when he was injured in a motor vehicle collision on Main Street. They are absolutely wonderful Frisco personal injury lawyers. They assisted him in getting the medical attention he needed following the wreck. When it came time to negotiate with the insurance companies, they wouldn't take no for an answer. Our attorneys kept the heat on until they finally had to do the right thing. I feel like a lot of firms would have given up and recommended a lawsuit right away but Mullen & Mullen attorneys are super ethical and determined. They were eventually able to help my husband get almost the full available policy limits without the stress and time associated with a lawsuit. If you need a Frisco car accident attorney these are the injury lawyers you should call. Highly recommended!
Chad Burnett ★★★★★ I hired Mullen & Mullen following a motor vehicle collision. I could not be more pleased with the Dallas personal injury lawyers I selected. They are the real deal! I was always kept in the loop on case developments. My attorneys sent the at-fault liability carrier multiple demands to make them agree to pay the policy limits. My lawyers also sent my own insurance company several demands to get them to offer me nearly the policy limits. A lot of attorneys would have given up and just recommended filing a lawsuit but Mullen & Mullen kept pounding the insurance companies until they did the right thing. This saved me a tremendous amount of money and time. I'm so very grateful that I found ethical, tenacious, and skilled attorneys to represent me. Mullen & Mullen gets my highest recommendation if you need a Dallas car accident attorney.C. Burnett
Diane Wallace ★★★★★ Mullen and Mullen did an absolutely brilliant job representing me in an injury lawsuit and getting me maximum settlement results. I recommend them highly!
Mari Hks ★★★★★ Highly recommend this law firm, Josh took care of my case he was very nice and professional along with everyone else.
Cayleb Murphy ★★★★★ Honestly 5 stars doesn't do them justice. Had an amazing experience working with Mullen and Mullen. I really felt taken care of throughout the entire process. Greg was especially nice to work with, he provided me with updates and answered all my questions whenever I had them. Would definitely recommend!
Zac Canida ★★★★★ I'm only 22 and this was the first case I've ever had, I got recommended Mullen and Mullen by a friend who has used them plenty of times and said nothing but good things about them. I have yet to see or hear anything that contradicts her statements! Everyone on the Mullen and Mullen team has been super helpful and kind to me by explaining everything that had and needs to be done to get the case in the right direction. Greg especially has been very helpful by keeping me updated and answering any questions I might have about the situation, he's been an amazing help and I'm glad I was able to get him assigned to help me get what I deserve from my car accident. Very professional and fast responses, If you are ever injured in a car accident I 100% recommend this team to fight for you, ask for Greg!
Tossem'Up52 ★★★★★ Wow! What a Great Law Firm Mullin and Mullin. I was in an accident not long ago and if there's ever a misfortune in my life as such, Mullin and Mullin will be the Law Firm that I choose again to take care of everything. Thank you Mullin and Mullin again for everything.
sisay Abera ★★★★★ Highly recommend this law firm, filled with very nice and professional people who put their clients first. Josh took care of my case and were able to reduce my medical bills significantly which was awesome! Very pleased and glad I had them to work on my car accident case.Thank you, Mullen & Mullen Law Firm
clara johnson ★★★★★ I was involved in a personal injury car accident in Dallas Texas, l worked with Josh and Jessica, they were fantastic. If I ever need help again l won't hesitate to contact them again.
Kimberly Palmoore ★★★★★ The best Accident Attorney's in the whole metro plex. Thanks Mr Morrison.
Terrie Rachall ★★★★★ Joe Morrison with Mullen and Mullen was fantastic representing me for an injury on someone's property. He kept me updated through the entire 2 year process. If I had any questions, Joe took the time to personally take my call and provide answers. Joe negotiated a settlement very quickly and ensured I received a fair settlement. I highly recommend Mullen and Mullen and would hire them again if I need help in the future. Best experience with any lawyer I have ever had!!
Caryn Bonosevich ★★★★★ Mullen & Mullen is awesome! Joseph and Erika made the process simple. I am thankful for the personal service I received.
Andrew Brown ★★★★★ Shane Mullen helped me with a complex medical malpractice case. His commitment to my case and attention to detail led to a favorable outcome. I highly recommend Shane and the Mullen & Mullen Law Firm.
Alex Malcolm ★★★★★ I was injured in a motorcycle accident, and Shane Mullen took on my case with determination and empathy. His attention to detail and commitment to my case led to a favorable outcome. I'm grateful for his hard work and highly recommend Mullen & Mullen Law Firm.
Christopher Castillo ★★★★★ I was involved in bad accident, Thanks to Jessica and Josh from mullen and mullens they help through the whole process. Help me get treatment and really took care of me. Help get back on my feet I really appreciate them.
R Brown ★★★★★ I have had such a wonderful representation under Joseph Morrison. He is a injury lawywer from Dallas and represented me on a case with several parties in a car accident. He worked hard, efficiently and quick to get me help and get the case settled. He is such an amazing attorney and his office staff is A+!
Natasha Malone ★★★★★ I had the honor to work with Mr. Morrison and his team recently and he was a life saver. He was thorough, detail oriented and down to earth as they come. He knows his law and doesn't make you feel like a number in line, but like a human. You can't go wrong with direct access and a discounted rate, I made the right decision and you will too.
Roison Fox ★★★★★ They helped me out of a tough situation, and never stopped fighting for what I deserved. I am so great full to have them as my law firm when I got in a bad wreck, I highly encourage they will support and guide you through out it all.
falisha jones (l0velisha) ★★★★★ I was involved in a car accident in Dallas texas off mockingbird. I was T bone by someone who had ran a red light. Me being a young female, I felt lost and taken advantage of by the other parties insurance.I chose Mullen Mullen because they were the only law firm who physically wanted to meet me and hear my side. They helped me with all on the medical assistance that I needed . Although it was a lot of therapy, I was really happy with the doctors they sent me to. Josh was very welcoming and I honest in the process. Every time I felt so at ease after speaking with him. I am so happy I had him on my case. Very hands on. Highly recommend!!!
Jacob Colerick ★★★★★ I cannot express how much Mullen & Mullen helped me turn a rough situation into something I could get through and manage properly.I was in a car accident on the way to work, and had chosen Joseph Morrison to represent and advise me on the matter. He provided me with solid advice and the right information to make educated decisions in the process of recovery. He was also extremely responsive and forthcoming whenever I had any questions. I had very little experience in legal matters so everything was new to me. Joe walked me through all the steps, helped coordinate my appointments with the right doctors, and definitely went above and beyond expectations. I am more than pleased with the outcome and would recommend both him and this firm to anyone!
Lisa Tennant ★★★★★ I want to share our experience with Mullen & Mullen who Truly is a five star law firm.My daughter was involved in a serious accident she was 8 1/2 months pregnant and she suffered serious injuries and lost her baby.The person that hit her had no drivers license and no insurance.Not deterred by this Joseph Morrison was masterful at working our case. He was able to get our insurance company to agree to the maximum settlement under our uninsured/underinsured coverage. In addition he was also able to get our health insurance company to drop a huge lien against our settlement.Joe Morrison and his team were so empathetic to our situation. Even though there are limits to what you can be awarded under uninsured/underinsured they never made us feel unimportant.They fought for us and we felt as though they truly cared about us and wanted to have the best possible outcome.Joe Morrison was a true champion for our family and we highly recommend him and their firm.We are so glad that we chose Mullen and Mullen and so grateful for the quality services they provided.We all feel they are the best choice among many and were the right choice for our family.
Richard Taylor ★★★★★ I cannot say enough good things about Mullen and Mullen, they are the best in the business! With a permanent neck injury, after already having a discectomy, my future was looking very dark. They got the full term limits from all parties and gave a light for my future instead. Always professional, and the best I've ever seen at answering concerns, and returning phone calls and messages. They are not just a cut above, they are the gold standard of what great attorneys should be. I especially want to thank Joe Morrison and Rosa, you are tops. Thank you both so very much.
Klaus Dausmann ★★★★★ Mr. Joseph Morrison represented my daughter during that difficult time did not only get the professionalism that we needed but also a insurance of true empathy and respect for us as human beings. not one time did I feel that I am just a case. outstanding performance and customer service.
I would recommend Mr.Joseph Morrison to my family and friends with good cognition
Ms. Macias 2A ★★★★★ They really took care of me and did everything possible for me to get the most out of my accident! Highly recommend! Friendly staff that genuinely cares about you and makes you feel like they'll do do anything in their power to help you.
Paul Nolan ★★★★★ I've consulted with Joseph Morrison on a number of legal issues. He's a fantastic attorney and I highly recommend this firm.
Stephanie Hull ★★★★★ Shane is a great lawyer. Him and his team were very understanding, professional, and informative. They deserve more than 5 stars and were great to work with. Thank you Shane!
Veronica Da Ponte ★★★★★ The Top Choice community thanks you for your dedication to your city and celebrates your 2020 win with enthusiasm!
Ellis Leigh Gardner ★★★★★ Josh Banks at this law firm did such a wonderful job helping me with my case that started in 2017. It may have taken some time, but he was very meticulous and made sure he had everything ready to go. I definitely would recommend him to anyone that is in need of a good lawyer!!
Nathan Neto ★★★★★ As a 2019 Top Choice Award Winner, they have proven their dedication to their city by consistently providing excellence through their services. 5 stars!
Dyvine Silvestre ★★★★★ They won the 2019 Top Choice Award for their excellence in the pursuit of top customer satisfaction and that equals to hundreds of great customer reviews! Thank you for sharing your passion with your beautiful city!
Tami Gray Jordan ★★★★★ I am thankful to this law firm. Mr. Shane Mullen is not just an impressive and talented attorney, he also treats a person with respect. He takes his job very seriously, and he is compassionate with a case he takes on. To add, his assistant is awesome. Thanks!
Roy C. ★★★★★ The handling of my case from a car wreck incident from the beginning, Josh Banks always had time to answer my questions and would give me updates when I asked. Aside from injury that I sustained, I always felt supported because they proved to me that they where working for the best interest of my situation and needs. I do not know what I would have done without you guys! Especially you Josh! I appreciate your kindness, patience and professionalism. The settlement amount was enough for my future concerns to help me reestablish myself because of my continued long term effects from the accident. Thank you so much!!!
Laura Servidone ★★★★★ Mullen and Mullen, was the law firm I choose to represent me for a commercial accident case. I worked specifically with Joe Morrison who went above and beyond to help get a settlement during the most difficult time in my life. I was in and out of the Hospital for a year. Surgery was necessary immediately on my hand, also suffering from multiple herniated disks, 5 hematomas, and stiches where my left eyebrow used to be. I feel blessed to have such a competent law firm and lawyer on my side. Thank you Joe!
Laura Villa ★★★★★ I am beyond grateful to this law firm and especially to Josh Banks. Josh delivered the greatest news several weeks ago. He notified me that my case had settled for an amount that I never imagined!!! Thank you Josh for suggesting to wait it out. This money couldn't have come at a better time. If yall only knew how many sleepless nights I had worrying how my situation would end. Thank you, thank you, thank you!!! Oh and by the way Josh I will be plugging in your number into my telephone and I will definitely be recommending you to anyone who needs representation!!
Tape Mastah Steph ★★★★★ Mullen & Mullen are 100% true honest life savers.. They deserve 10 Stars!! Thank you for everything, Shane. You're the best! - Stephan
Danielle Johnson ★★★★★ Mullen & Mullen is an awesome law firm and they are very professional and provide excellent service would give them 6 stars if it was possible and I want to add a special thanks to Josh Banks who was with us every step of the way and made sure I was taken care of through this rough time.
Jessica Cullum ★★★★★ Josh Banks is awesome to work with! Mullen and Mullen is such a great law firm!!
Kyshia Roney ★★★★★ I really love MullennMullen law firm they really came through for me when I need them the most Joshua banks was able to get me back more then though I would get back. He returns my phone calls the same day and explain everything very well I highly recommend them.
Good Life ★★★★★ I must admit before choosing Mullen & Mullen. I took advice from a friend who insisted that I contact another law firm who's name I was very familiar with, from constantly hearing there commercial on the radio. When I called the other law firm they set me up an appointment to come in an speak to someone. I went and was very impressed with how nice there office was, however I was not impressed with how much there fees where. Let's just say that I could see why the decor was so nice after I learned what they would charge me for representation. I politely declined and limped right out of there office. I then went home and started doing my own research online going from one firm to another, reading review after review and came across Mullen & Mullen. I called the office explained my situation just as I had done with the other law firm and the first thing that the lady asked me from Mullen & Mullen was would I like to come in? or Would I like for someone to come out to my home to talk with me? They sent someone out, he answered all of my questoins. He was very thorough and professional so I was only a little impressed at this time, until he explained to me what there fee would be. And that's when I became even more impressed. I was told that a Mr. Josh Banks would be contacting me and would be handling my case. Mr Banks always kept me informed with what was going on and would check to see if I was satisfied with the services that I was receiving. He also got me the maximum amount that I could receive without charging me an arm and a leg, the process didn't take long and I didn't have to go into some fancy smancy office. Over all my experience with Mullen & Mullen has been great! Keep up the good work Mullen & Mullen!
Debbie Wilson ★★★★★ Truly great firm! Joseph Morrison went the extra mile to secure great results in a timely manner. I feel lucky to have found the firm and highly recommend, thanks again Joe!
Joyce Terry ★★★★★ Josh and Jessica did an awesome job working on my case and got me the settlement I deserve. Other staff member were great and welcoming.
Mason DuPont ★★★★★ Shane assisted me with my second case and much like the first one, was very informative and got me taken care of better than I'd hoped for. I recommend this law firm to anybody that would need an attorney!
Talia Lozano ★★★★★ My husband and I worked with Joseph at Mullen & Mullen, he was extremely sincere and personable, he did everything he said he would and always followed up when promised. Mullen & Mullen took care of us from the very beginning making everything extremely easy to get the help we needed. It was our first time having to go through something like this and Joseph took care of us the whole way. We also had a recent bankruptcy due to loss of job, and Joseph was able to work with the trustee to get us even more than the court's exception would allow in our particular circumstances.My husband also wants to shout out to "Mike", the original representative we met with after our accident, he was extremely knowledgeable and made everything feel right when signing on with Mullen & Mullen, and gave us the confidence we had nothing to worry about.We were referred by my brother Carlos L. who went to school with Mr. Mullen's son and are glad we took his advice!
Stacey Lawrence ★★★★★ I cannot say enough about Mullen & Mullen... I've been working with Shane Mullen and from the beginning he has taken the time to answer all of my questions and explain the process to me in terms which I could understand. He has personally called me through all of this giving me updates and advising me of my options. Other than showing up to my rehab appointments, Mullen & Mullen has done everything else.I am very grateful that I looked at the reviews such as this one and decided to give them a call because it has truly worked out in my favor.Thanks Shane!
Deon Johnson ★★★★★ Definitely the best in the business. It is seriously a team effort with the Mullen and Mullen law firm. I hope No one has to go through a situation like mine but if you do I strongly recommend going to Mullen and Mullen . You will rest a lot easier knowing they have you back .
Allie Farooq ★★★★★ We were hit by a drunk driver in Mesquite Texas, and immediately went to google search to find an attorney at the scene. We were very apprehensive because we had never been in this type of situation, and never had hired an attorney for a car wreck. We solely chose Mullen and Mullen based on their 5 star review. We are so glad we made this decision! We were both hurt bad and had to see doctors and go through physical therapy. Joseph Morrison handled our case and was so extremely caring and understood our pain, he took his time with our case. Every time I called, he answered, and spent so much time on the phone answering each question. He made sure we got all the treatment necessary before closing our case. We were extremely pleased with the end and will always call if we ever need him. My husband told me it's so easy and they are so nice it makes me nervous. We learned it really was just easy! They really did have our best interest at heart. Our neighbor had a similar wreck and we told them to call and they didn't. They lost so much and the wife still has pain to this day. She always says to me we should have called.
Brittany Puckett ★★★★★ I want to thank Joseph with Mullen & Mullen for being the best attorney anyone could have asked for. He worked very hard in getting the medical help I needed after my auto accident. He made me feel like I was his only client. He kept me informed on what was happening during my case and truly cared about my health care needs. His hard work and legal knowledge helped me in getting the insurance limits for pain and suffering allowed. It was more than I expected. Thank you for everything you did for me. I highly recommend Joseph Morrison with Mullen & Mullen Law Firm.
Kimberly Greer Nichols ★★★★★ I hired Shane Mullen as my personal injury lawyer for a slip and fall case. I hired them because of the positive reviews they had as well as the amount of experience. I was not disappointed. Shane and Mullen & Mullen did a great job for me and I couldn't be more pleased.
Razieh Shoorab ★★★★★ As a future chiropractor who also works for a successful chiropractic office, I deal with many personal injury cases as well as different lawyers. Hands down Mullen & Mullen has been the best. They really do take their business to a personal level. After a screening call from one of his assistance, it was the next day that Shane Mullen called me. I will never forget our first conversation and one thing in particular that he said to me. I said, "This is the first time I am talking with you but I trust you so much" and he replied: "I Fully Trust Myself Too." That was what I wanted to hear. I wanted to make sure that my lawyer is confident and my case is in good hands and with that settlement he proved his confidence and competence. As an experienced client I suggest that if you ever involve in an accident and need an attorney, do yourself a favor and call Shane Mullen. He will represent you with a passion for justice. Thank you Shane, you are amazing!
Razieh Shoorab ★★★★★ There is no way I can express my gratitude towards Mullen & Mullen law firm. Working with them has been by far the best legal experience I have ever had. I was not a million dollar client but was treated like one. I am so grateful that my case was accepted by them and very thankful that I have been awarded a great and beyond imagination settlement because Shane Mullen fought for me relentlessly. I highly recommend everyone to give him a call before turning into any other lawyer. Great job and Thank you again!
Danielle Valentino ★★★★★ I had used them before and I delt with Shane Mullen and I can say by far the BEST lawyer I have used! Helped me tremendously! If you need a lawyer call them. Hands down the best!!!!!
Diane MacNeil ★★★★★ Having Shane on your case is like sending a pit bull after any other dog - they may "bow up" to try to look bigger and stronger, but the pit is going to win in the long run!
Milagros Yates ★★★★★ This is the best law firm in Dallas Tx. This is my second case with this law firm, If I ever have another case I will go right back to him.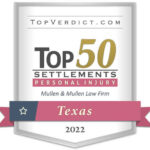 Not only do we offer the lowest fee, according to TopVerdict.com, our Dallas truck accident attorneys obtained 43 TX "Top 50" personal injury settlements in the last 3 years. We will maximize your compensation, and you will pay ZERO until after your claim settles. Just call (214) INJURED now to talk to an attorney who cares, or use the form or chat feature on this page to request your free consultation.
Top Dallas Truck Accident Attorneys Who Settle For More
YOU CAN TRUST OUR FAMILY TO FIGHT FOR YOURS™
If you were hurt in a commercial vehicle or big truck accident, our skilled Dallas attorneys fight tenaciously to ensure the maximum available settlement while offering you the lowest contingency fee. We handle your case the way we would want our own case handled.
Mullen & Mullen is consistently recognized by TopVerdict for obtaining some of the largest recoveries in the entire state of Texas. In the last 3 years our firm made the Texas "Top 50 Personal Injury Settlements" list 43 times. One of those years we had 19 of the "Top 50" results and all of them were for clients injured in motor vehicle accidents. Our stellar results allow us to offer a below industry standard 29% pre-suit contingency fee which means more money in your pocket.
Our experienced local team has an incredibly strong work ethic and truly cares. We've been privileged to serve North Texas for over 40 years. This is our backyard. Call (214) INJURED now for a free consultation and some excellent advice.
A Message From Our Managing Partner
"We hold commercial drivers to a higher duty of responsibility – these are supposed to be professional drivers."
Trucking and other commercial accident cases require you to act with real urgency. Insurance companies often send defense attorneys and "crisis teams" to the scene of these wrecks to minimize the company's exposure and influence the outcome of investigations.
If you were injured in a commercial vehicle collision they are already strategizing to delay, deny, defend or even dismiss your claims.
It's common for critical evidence to conveniently become misplaced or lost entirely. That's why as soon as Mullen & Mullen is retained on commercial cases we quickly send thorough spoliation letters and demands to preserve specific evidence.
Many firms don't utilize experts unless a lawsuit has been filed, but we routinely retain experts such as accident reconstructionists, life care planners, and vocational rehabilitation consultants. We commonly perform inspections and download data from the electronic control modules of involved vehicles. Our pre-suit efforts significantly increase the odds of you obtaining an early insurance policy limits settlement without the stress associated with costly and time-consuming litigation.
Believe it or not, some attorneys truly don't get involved in a personal injury case until it's ready to be evaluated and presented. At that point the cake has already been baked and the only thing left to do is serve it. If an ingredient is missing, it's usually too late to do anything about it. At Mullen & Mullen, clients have access to their attorneys from the get-go and at every stage throughout the case development process. In fact, most of our clients have an attorney's personal cell phone number.
You also deserve a firm with in-depth medical knowledge. Linking causation of your injuries to your accident may sound simple, but it's often anything but. Some injuries don't reveal on any imaging studies. Other times, your MRI may show a significant disc herniation or tendon/ligament tear, but the same imaging also reveals asymptomatic spinal disc protrusions/bulges/herniations, minor tears in joint cartilage, arthritis, etc. Commercial insurance companies will undoubtedly suggest your pain and discomfort is due to those pre-existing conditions instead of your actual injury. If you don't have acute objective findings demonstrated on imaging studies, they'll argue you're not even hurt.
Recently, we had a client whose MRI was completely normal. We successfully advocated that her lack of findings was expected since she was diagnosed with facet joint syndrome – which is a clinical diagnosis not based on imaging. Furthermore, we produced prior medical records demonstrating she never complained of similar symptoms before her accident. She underwent a rhizotomy procedure. We retained a certified lifecare planner expert who calculated her future medical costs since – even though her pain has resolved for now – that might not always be the case.
Ultimately, this client was ecstatic when we recovered the full remaining liability policy limits of $968,844.03 without even having to litigate her case. We are exceedingly confident this was one of the largest recoveries in Texas for facet joint injuries and it was made possible by a deep understanding of our client's specific injury.
Shane V. Mullen, Attorney at Law
Success Story: $962,500 Recovery for Neck Injury in a Truck Accident
Experience our legal expertise in action by delving into this concise narrative showcasing how a client secured a $962,500 settlement for a neck injury sustained in a commercial truck accident.
On a westbound journey along US 287, a truck driver's inattentiveness led to an unsafe lane change, resulting in a collision with another motorist who suffered a neck injury. Notably, the injured party had a significant spinal surgery in her medical history.
Pre-existing medical conditions can often serve as leverage for insurance companies seeking to minimize their payout obligations. In this instance, we anticipated the insurance company would contend that some of the injuries sustained were attributable to the prior spinal surgery.
While it is conceivable that a previous surgery could influence current injuries, Texas law adheres to the "Eggshell Doctrine." This doctrine dictates that plaintiffs should be compensated for all injuries resulting from the accident, even if pre-existing conditions exacerbate those injuries. In essence, one must take the plaintiff as they are.
To bolster our client's claim, Shane Mullen recommended thorough documentation of any new or exacerbated symptoms post-accident. This entailed obtaining medical records that detailed any fresh symptoms observed by the client. Subsequently, the client underwent multiple laminectomies to address the damaged vertebrae.
As negotiations commenced with the insurer, it was expected that they would argue that the accident's force was insufficient to necessitate surgery. In response, Shane highlighted the documented new symptoms and emphasized that even a moderate accident could exacerbate pre-existing injuries.
In the end, the insurance company was compelled to make a payment of $962,500. Moreover, our client enjoyed a $70,000 savings thanks to our reduced 29% case fee, as her claim was successfully resolved without resorting to a lawsuit.
Why Choose Mullen & Mullen?
We believe we offer as much value as any firm in DFW based on the following factors:
40 years in business and a combined 95+ years of experience winning commercial truck accident claims with circumstances like yours.
Direct access by phone to your lawyer and the ability to text your dedicated legal team 24/7
Potentially thousands or even tens of thousands of extra dollars in your pocket because we charge just a 29% contingency fee (most firms charge 33.3%-35%) when your claim settles out of court (most Mullen & Mullen claims do).
Save additional money thanks to our in-house private investigators. Most firms contract these services out, which costs you a lot more.
Connections to medical professionals and institutions who will delay billing you until after you win your claim.
Connections to every other possible service you could need during this stressful time (auto repair, financial services, counseling, and more).
Kind and caring lawyers who are easy to talk to.
A Little About Our Highly Skilled Attorneys
Managing Partner, Attorney Shane V. Mullen
Attorney Shane Mullen has 21 years of experience representing truck accident claims. He knew he wanted to be a lawyer beginning in the third grade. Since that time, he's grown to become an excellent commercial truck accident lawyer and has won several million dollar and multimillion dollar claims. That's allowed him to become a member of the Million Dollar and Multimillion Dollar Advocates Forums. He's also now a member of Rue Ratings' Best Attorneys of America. Both organizations are based on merit. They're invite-only and accept just the top 1% of all lawyers in America. That means Shane earned his way into both and did not buy or network his way in.
Associate Attorney, Joseph R. Morrison
Attorney Joseph Morrison Attorney Joseph Morrison has 19 years of experience and a list of achievements similar in length to Shane's. He also has won several million-dollar and multimillion dollar claims of his own. Just like Shane, this has qualified him to become a member of both the Million Dollar and Multi-Million Dollar Advocates Forums. He's also
a member of The National Trial Lawyers: Top 100 Civil Plaintiff Trial Lawyers. Again, all these organizations are invite-only and based completely on merit. You cannot network or buy your way in!
What should you take away from all this? No matter which attorney handles your truck accident claim, you're in great hands with Mullen & Mullen Law Firm.
Firm Founder, Attorney Regis L. Mullen
Attorney Regis Mullen has 56 years of experience and began his legal career by litigating on behalf of the insurance companies in order to learn their tactics. After doing that, he switched over to representing injury victims and hasn't looked back. Now he uses all that knowledge he accumulated working for insurers on your behalf.
Medical Diagnostics & Treatment with Delayed Billing
We have access to cutting edge medical diagnostics and well-established relationships with doctors, chiropractors, surgeons, and all types of medical professionals in Dallas and across the entire state of Texas. The providers we recommend specialize in treating people hurt in accidents of all kinds and are willing to delay billing you until after your case is resolved. This means you pay no medical bills until after your claim has been fully settled. Many physicians won't see patients involved in accidents because they fear being involved in potential litigation.
Are Your Medical Bills Already Piling Up?
Due to their large size, semi-trucks and other commercial vehicles often cause devastating injuries, and even death. Major injuries, unfortunately, equate to a heap of medical bills accumulating as you read this. Fortunately, we can connect you with quality medical professionals and institutions willing to delay payment until after you win your claim. That means you pay nothing out of your pocket up-front to receive the medical attention you need and deserve.
How We Deal with Your Existing Medical Bills
Worried about how you'll pay off the medical bills you currently have? Don't sweat it. We will eventually help you make those go away too and – while your claim is pending – we can advise you on how to set-up small payment plans with providers to prevent collection efforts that could impact your credit.
Testimonials From Dallas Clients Injured by Commercial Truck Drivers
Jennifer Foster's Review
"I have three children under the ages of 6, the youngest one is disabled. I was unable to care for my children, after I was hit by an 18-wheeler. My financial support was lost. When I hired the Mullen & Mullen Law Firm, they immediately earned my trust. They made it easy for me."
Josie Gonzales's Review
"I was hit by a commercial vehicle… They made sure all my medical needs and expenses were taken care of. I have recovered from my injuries. Shane is a great attorney and I was awarded the maximum. I highly recommend this law firm. They were very professional & sincerely cared about me."
Review from Shonye B.
"I was hit by a commercial truck while stopped at a stop light. Joseph did his absolute best to get me what I deserved. Mullen and Mullen are the best.
Review from Moll M.
"Joseph Morrison did a fabulous job with handling my accident with a commercial vehicle. I was injured and required surgery. Joseph made sure all my bills were covered and handled my case with a caring attitude making sure I received a good settlement. I truly appreciated Joseph and his staff! I would recommend Mullen and Mullen to family and friends."
Review from Mark M
"My aunt had met with an accident when a truck rammed into her car. She had suffered severe injuries and had to be kept in the hospital for a long time. Needless to say, the expenses added up to quite a bit, so I was determined to fight for adequate compensation from the other party. It was my friend who recommended your firm to me. Mullen & Mullen is certainly different from the other law firms that I have come across so far. They offered me a free consultation and the contingency charges were very lenient. The best part is that they helped me through all the procedures and ensured that we received the money that was due."
J. Melville's Review
"Mullen and Mullen was incredible in terms of both how understanding they were to my problems as well as in settling my case quickly and fast. A truck from a local construction company ran into my parked car and pretty much totaled it a few months back. Initially they refused to pay me a dime, and even threatened to bury me in litigation. But as soon as Mullen & Mullen took up my case up, things went so much better. I was compensated for my loss, and I didn't even have to go to court for it. Those guys do an incredible job."
Experience and Expertise
Our top-rated Dallas attorneys won a Texas "Top 10" truck accident personal injury settlement in 2021, according to TopVerdict.com. As a matter of fact, 19 of the Texas "Top 50" personal injury settlements in 2021 were for Mullen & Mullen clients. One of our claims made the Top 10 list, eight made the Top 11-20 list, and ten made the Top 21-50 list. Several were for commercial vehicle accidents. That's why we can say with 100% confidence we'll help you recover maximum compensation – especially when factoring in our reduced contingency fee.
Mullen & Mullen lawyers have the skills and experience necessary to handle your commercial vehicle accident case. With a deep understanding of trucking laws, regulations, and industry practices, our team has successfully handled hundreds of these claims, consistently achieving favorable outcomes for our clients. We are well-versed in the complexities of these claims, including investigating the accident, identifying responsible parties, gathering evidence, and developing a strong case.
Mullen & Mullen's experienced lawyers bring extensive expertise to the table in Dallas truck accident cases. With a deep understanding of trucking laws, regulations, and industry practices, our team has successfully handled numerous claims, consistently achieving favorable outcomes for our clients. Our legal team is well-versed in the complexities of these claims, including investigating the accident, identifying liable parties, gathering evidence, and building a strong case.
Our Dallas Truck Accident Claims the "Top 50" Highest Settlements in Texas List in the Last 3 Years
$1,300,000; Motorist v. Commercial Driver
$1,000,000; Motorist v. Inattentive Commercial Driver
$1,000,000; 18-Wheeler Driver v. Commercial Motorist
$996,292; Auto Driver v. Commercial Truck Driver
$978,569.77; Auto Driver v. Commercial Driver
$968,844; Motorist v. Truck Driver
$960,576.60; Commercial Driver v. Commercial Driver
$954,543.87; Commercial Driver v. Commercial Driver
$845,000; Motorist v. Commercial Truck Driver
$663,354.69; Passenger in a Vehicle v. 18-Wheeler Driver
$600,000; Injured Driver v. Commercial Driver
$550,000; Motorist v. Tow Truck Driver
$542,350; Commercial Driver v. Negligent Motorist
$500,000; Injured Driver v. Commercial Driver
$425,000; Motorist v. Semi-Trailer Truck Driver
$350,000; Motorist v. 18-Wheeler Driver
$348,055; Professional Driver v. Negligent Motorist
$325,000; Commercial Driver v. Premises Owner
We Hold Commercial Drivers Responsible
Trucking companies and insurance companies don't like to pay. They fight cases aggressively and often delay or deny valid claims. Fortunately, you have our 95+ years of combined experience on your side. We've been assisting victims of commercial wrecks for four decades. We often know the insurance carrier's next move before they even make it. They know who we are and that we'll do everything we can to make sure you are treated fairly.
Paying Your Bills While You Wait for Your Claim to Resolve
An unexpected wreck can turn your life upside down and leave you needing immediate financial assistance to stay afloat. We have established relationships with the major "law loan" companies. These loan companies typically advance you 5-10% of your claim's potential final settlement value. We have negotiated with these law loan companies to offer a lower interest rate to Mullen & Mullen clients. Once you retain us as your counsel, you can usually have access to a loan once liability and insurance coverage have been confirmed. These law loan companies trust our assessments of cases based on our track record of success. It's an excellent solution if you have no other financial resources available.
We Focus Case Quality Over Case Volume
It's up to you to prove your claim. Fail to prove it, and you won't recover any compensation for your injuries or financial damages. The compensation you recover depends highly on your lawyer's experience and personal commitment to winning you maximum compensation. We have more than 95 years of combined experience and – because we're not a volume firm – focus on fewer cases. That means your case will get the time and attention it needs and deserves so that you have the best opportunity to be fully compensated for your damages.
Counselors for PTSD After Your Accident
Make no mistake about it, a commercial truck accident is highly stressful at best, and completely turns your world upside down at worst. Our firm has relationships with counselors who can help you deal with the fallout from your wreck. It is very common for injury victims to experience post-traumatic stress disorder (PTSD) resulting from a motor vehicle collision. A counselor can help you deal with stress, anxiety, depression, or any other mental health issues you are experiencing.
Comprehensive Legal Support
Mullen & Mullen Law Firm in Dallas is committed to providing comprehensive legal support to our clients throughout the entire process. From the initial consultation to the resolution of your truck accident case, we will be by your side, offering guidance, support, and aggressive representation. Our lawyers will take the time to understand the specifics of your case, assess the damages you have suffered, and develop a personalized strategy tailored to your unique needs. We are not a volume firm that runs some sort of "assembly line".
Investigation and Evidence Collection
Investigating a commercial truck accident requires specialized knowledge and resources. Our skilled team – when necessary – will thoroughly investigate the accident scene, interview witnesses, and consult with accident reconstruction experts to establish liability. Mullen & Mullen Law Firm also routinely gathers crucial evidence such as black box data if available to build a strong case on your behalf from the get-go. Other evidence such as logbooks, maintenance records, and other relevant evidence can be obtained in litigation should that route become necessary.
Identifying All Responsible Parties
Commercial truck accidents often involve multiple parties, each potentially liable for the damages caused. Our experienced lawyers will diligently assess the circumstances surrounding your case to identify all responsible parties. This may include the truck driver, trucking company, vehicle manufacturers, maintenance providers, and others. Holding all liable parties accountable is crucial in ensuring you receive the full compensation you deserve.
Aggressive Negotiation and Litigation
Mullen & Mullen will aggressively negotiate with insurance companies and opposing counsel to seek a fair settlement that covers your medical expenses, lost wages, pain & suffering, mental anguish, impairment, and other damages resulting from the truck accident. If a fair settlement cannot be reached, our top-rated lawyers are prepared to take your case to court and continue to fight tirelessly on your behalf. Mullen & Mullen Law Firm attorneys have their own proven track record of success in the courtroom as well as relationships with top litigators across the State of Texas.
Client-Centered Approach
At our Dallas law firm, you are more than just a case number. We understand the physical, emotional, and financial hardships you may be facing in the aftermath of a commercial truck accident. That's why we prioritize open and honest communication with our clients, keep you informed about the progress of your case, and address any concerns or questions you have along the way. Mullen & Mullen Law Firm provides compassionate support and personalized attention. We always place your best interests at the forefront of our legal strategy.
Case Studies About Dallas Truck Accident Claims We've Settled
You Can Afford The Best Truck Accident Lawyer in Dallas Because You Pay Nothing Until After You Win
Not only will you not pay anything out of pocket until your settlement has been won, you could receive thousands more in your pocket when it's all said and done because Mullen & Mullen Law Firm charges just a 29% contingency fee versus the industry standard of 33.3%-35% for cases that settled without litigation. This 4.3% savings can really be significant. For example, on a $500,000 truck accident settlement it would mean $21,500 more in your pocket.
Common Types of Injuries Sustained in Trucking Accidents
Truck accidents can have devastating consequences due to the size and weight disparity between commercial trucks and passenger vehicles. These accidents often result in severe injuries that can have a long-term physical, emotional, and financial impact on victims. Understanding the most common types of injuries sustained in commercial truck accidents is essential for both accident victims and their legal representatives in pursuing compensation and justice.
Head Injuries
Truck accidents can lead to traumatic brain injuries, ranging from mild concussions to severe brain damage. The sudden impact or violent jolt can cause the head to hit objects within the vehicle, resulting in cognitive impairments, memory loss, difficulty concentrating, personality changes, and long-term complications. Timely diagnosis and appropriate medical intervention are crucial for managing and treating TBIs.
Spinal Cord Injuries
The forceful impact in truck accident can damage the spinal cord, leading to partial or complete paralysis. Spinal cord injuries can result in loss of sensation, impaired motor function, and a significant impact on an individual's daily life. Rehabilitation, adaptive equipment, and long-term care are often necessary to support individuals with spinal cord injuries.
Back and Neck Injuries
Whiplash, herniated discs, spinal fractures, facet joint syndrome, and other back and neck injuries are common in truck accidents. The sudden jerking motion during a collision can strain or damage the muscles, ligaments, and vertebrae, leading to chronic pain, limited mobility, and long-term discomfort. Physical therapy, pain management, and sometimes surgical interventions may be required for recovery.
Broken Bones and Fractures
The immense force involved in truck accidents can cause fractures and broken bones throughout the body. Limbs, ribs, pelvis, and skull fractures are particularly common. These injuries often require immediate medical attention, surgical intervention, immobilization through casts or braces, and extensive rehabilitation to restore functionality.
Internal Injuries
Truck accidents can result in significant internal injuries due to the impact of the collision. Organs such as the liver, spleen, kidneys, or lungs may be damaged, leading to internal bleeding, organ failure, and life-threatening conditions. Prompt medical evaluation and treatment are critical to address internal injuries, as they may not be immediately apparent.
Cuts, Lacerations, and Bruises
The shattered glass, debris, and objects inside the vehicle can cause cuts, lacerations, and severe bruising. These injuries can range from minor wounds to deep lacerations requiring stitches or reconstructive surgery. In some cases, scarring or disfigurement may result, leading to both physical and emotional distress.
Burns
Truck accidents involving fires or explosions can result in burn injuries. The severity of burns can vary, ranging from first-degree burns to more severe third-degree burns that affect deeper layers of the skin and underlying tissues. Burn injuries often require specialized medical treatment, including wound care, skin grafts, and extensive rehabilitation.
Psychological Trauma
Truck accidents can have a profound psychological impact on the individuals involved. Post-traumatic stress disorder (PTSD), anxiety, depression, and phobias are common psychological consequences. Victims may experience flashbacks, nightmares, social withdrawal, and difficulty resuming daily activities. Psychological support and therapy are vital for their recovery.
It is important to note that the severity and type of injuries can vary depending on various factors, including the speed of the collision, the angle of impact, use of safety restraints, and the size of the vehicles involved. Seeking immediate medical attention after a commercial truck accident is crucial, even if injuries may not appear severe at first, as some injuries may have delayed onset symptoms.
About Commercial Truck Accident Claims
In commercial truck accident claims the stakes are usually very high. Our experienced lawyers have the knowledge, skills, and financial stability necessary to take on the trucking company and their insurance carrier and recover compensation. Mullen & Mullen Law Firm will make sure the at-fault driver and the company they work for are held responsible for your injuries.
A Private Investigator Hired by the Trucking Company Could Try and Secretly Video You
Be mindful of the situations you place yourself in as you recover from your injuries, as insurance companies use anything they can against you. They know they have increased exposure when an 18-wheeler or other commercial truck is involved. Trucking companies typically have minimum liability insurance policies of $1,000,000.00 and most major insurance companies have stand-alone departments just to deal with these accident injury claims.
We Have In-House Private Investigators to Work on Your Case
At Mullen & Mullen Law Firm, we employ two in-house accident investigators who will quickly request a copy of the Texas Peace Officer's Crash Report if available. They routinely take photos and video footage of all vehicles involved and of the accident scene. They also attempt to locate any witnesses if necessary to further establish liability. If no witnesses are identified in the police report, our investigators have been trained to canvas the scene for potential witnesses.
Our Attorneys Will Conduct Witness Interviews and Obtain Affidavits
Our lawyers routinely interview and obtain affidavits from located witnesses and will also run public record database searches and utilize the FOIA (Freedom of Information Act) to request various records associated with the wreck, the driver of the semi-truck, and/or the company that employs the driver.
What Organizations May Have Records Related to My Truck Accident?
Depending on the facts and circumstances of your collision, the following agencies may have documents that could assist your personal injury case:
Our lawyers routinely request documents from various government entities. If you retain Mullen & Mullen Law Firm, we will quickly and efficiently secure all available documents that could be helpful in your case including police officer body worn camera footage when available.
What Texas Rules and Regulations are Commercial Drivers and Trucking Companies Subjected to?
18-wheeler drivers and the companies they work for are generally subject to a substantial number of rules and regulations. Depending on the circumstances of your case, the following could be applicable:
Our attorneys are knowledgeable regarding various rules and regulations applicable to commercial truck drivers. We will identify any possible violations by the trucking company and its driver.
Claiming Damages with Insurance Companies After Your Truck Accident
When should you file claims for injuries and damages after an accident with a commercial truck? You should set up various insurance claims as soon as you are able. Do not think that just because the truck driver said he or she was "sorry" at the scene that liability will be accepted by the trucking company or its insurance carrier. Semi-tractor-trailer drivers operate on a point system and can lose their commercial driver's license if they accumulate too many points. As a result, they will often have a strong motivation to not be truthful.
What Claims Should Be Established with the Trucking Company or Your Insurance Company?
You might have several insurance claims to set-up following an 18-wheeler wreck. Below you will find just a few of the potential claims we can help you establish:
Liability claim against the 18-wheeler driver (property damage as well as injury damages).
Liability claim against the company the truck driver was working for at the time of the accident (property damage as well as injury damages).
PIP monies through your own automobile insurance policy to reimburse you for medical expenses and/or money you have lost if you are unable to work.
MedPay monies through your insurance or the at-fault party's insurance (Offset allowed if you obtain a settlement)
What Are the Typical Liability Limits of a Commercial Vehicle Policy?
Most policies will have insurance coverage in place of at least $250,000 per person / $500,000 per accident. Often, they will have coverage limits of $1,000,000 per person / $2,000,000 per accident.
Example: If three persons are injured in the same semi accident, and the at-fault driver's policy limits are $250,000 per person / $500,000 per accident, the most any single person could get under the insurance policy is $250,000, and the most the liability carrier would have to pay out in total is $500,000, even if combined damages were well more than that amount.
It is very important to explore all potential sources of insurance coverage if you have suffered traumatic or life-altering injuries in an 18-wheeler accident. Our Dallas lawyers are adept at verifying whether the semi-tractor-trailer may be covered under separate insurance policies or an umbrella policy, thus maximizing your potential recovery.
Does it Matter if the Driver was an Independent Contractor?
Yes. Employers are generally not liable for the negligent actions of an independent contractor. Texas follows the doctrine of Respondeat Superior, however, and companies are liable for the negligent actions (or omissions) of an employee while said employee is in the course and scope of his or her employment for the company. For example, if you were injured in an 18-wheeler accident with a Swift Transportation truck, the driver and Swift Transportation would both be proper Defendants in a lawsuit.
The amount of available insurance proceeds could depend on whether the semi-tractor-trailer driver was an independent contractor (coverage for the driver only) or employee (coverage for the driver + coverage for the trucking company). Our lawyers are familiar with the factors used to determine the status of the driver and can make legal arguments to establish that the driver was an employee even if the trucking company claims the at-fault driver was an independent contractor.
The company's policy limits don't matter if they have significant assets. For example, if you suffered devastating injuries due to a JB Hunt 18-wheeler, you wouldn't need to be concerned with the insurance limits since JB Hunt has millions and millions of dollars that could be seized in a judgment.
Vehicle Repair or Replacement After a Commercial Truck Accident
Should I take my car to the repair shop the trucking company's insurance carrier recommended to me?
No way. The body shops recommended by their company's liability carrier are recommended for an easy to guess reason, i.e., they charge less for repairs. The trucking company and its carrier want your automobile damage to be very low so they can argue you were involved in a "minor" collision. Have an estimate performed by the auto dealership or a body repair shop of your own choosing.
Do You Get a Rental Vehicle if You are Involved in a Commercial Accident?
Yes, but usually only if your automobile can be repaired and isn't totaled. If your vehicle is fixable and drivable, you can generally get a like and similar rental car for the time it would take to fix your car. If it's a total loss, then you may likely only recover the fair market value of your automobile and insurance companies do not generally reimburse you for the cost of a rental car once your vehicle has been deemed a "total loss".
Can You Assist Me with Obtaining a Rental Car?
Yes, our lawyers are happy to help you upon request in securing a rental vehicle while your automobile is being repaired, or while the liability carrier for the trucking company is determining whether your automobile is a "total loss".
Can I Recover Damages for the Diminished Value of my Automobile?
Yes, generally. Establishing diminished value often requires an expert report. Our law firm is happy to advance the money on your behalf to obtain an expert report if the damage to your car warrants it.
How Much Can I Recover for My Vehicle if it is Considered a "Total Loss"?
If your car is totaled following an 18-wheeler accident, then you can recover only the fair market value of your vehicle. The fair market value is measured by what similar vehicles are being sold for on the open market. Fair market value is not measured by Kelly Blue Book or NADA Book Value.
Securing a Law Loan
Do companies exist that loan money based on securing an interest in your settlement?
Yes, but many of these law loan companies charge a ridiculous interest rate. Most law loan companies require you to be represented to qualify for a loan. Our legal team routinely help clients secure loans that charge a flat fee, as opposed to a continuously compounding loan. This sometimes saves our clients thousands of dollars.
Getting Necessary Medical Treatment
Should you go to the hospital if you have pain and discomfort? Absolutely. If you experience pain and discomfort following an 18-wheeler or other commercial vehicle accident, you should be safe and get checked out. Large semi-tractor-trailers weigh thousands of pounds. It is best to be cautious and get examined because it's the safe thing to do and also because the insurance carrier for the trucking company will attempt say you weren't hurt that bad if you don't.
What if My Health Insurance Carrier Pays Some of My Medical Bills?
If your health insurance carrier, Medicare, or Medicaid makes payments on your behalf for injuries related to your 18-wheeler or commercial truck accident, the halth insurance carrier or agency is generally entitled to be reimbursed out of your settlement proceeds – a right known as subrogation.
The amount the carrier or agency is entitled to be reimbursed can differ, but our Dallas truck accident attorneys are almost always able to secure a reduction of health insurance liens or workers' compensation liens.
Do Medical Providers Exist Who Have Experience in Treating These Types of Injuries?
Yes. Many doctors refuse to treat patients who have been injured in truck accident cases because they fear getting deposed or otherwise drawn into a legal battle. Some healthcare providers do exist, however, that are willing to provide services for commercial truck accident injury victims.
Our attorneys will assist you in securing all the medical attention you require following the collision. Mullen & Mullen Law Firm has been in business for over 40 years and we have strong relationships with various healthcare providers who primarily assist people hurt in accidents.
Upon your request, we can help you locate a local doctor who will agree to delay billing you for medical services until the conclusion of your truck accident case. Mullen & Mullen's lawyers work with pain management physicians, surgeons, physical therapists, chiropractors, neurologists, hospitals, surgical facilities, imaging facilities, and other providers who are willing to forego payment until the settlement of your claim, even if you require a surgery.
Can You Recover Lost Wages Because of the Accident?
Yes. The trucking company or insurance company, however, will want your loss of earnings to be well documented. In the past our lawyers have helped 18-wheeler accident victims establish a legal right to these damages, by utilizing fact witness affidavits, company correspondence, bank statements, and certified tax and earnings documents.
An Example: Our attorneys represented a young female whose job was classified as "Light" according to exertional demands. She underwent a Physical Performance Examination that indicated she did not have the capacity to perform at the "Light" exertion level. She was held out of work until she could perform her job duties without the risk of aggravating her injuries.
Can You Recover Damages for Loss of Earning Capacity?
Yes. Loss of earning capacity is the total amount of wages you will lose over the course of your lifetime due to your injuries adjusted to net present value.
Our truck accident attorneys utilize both Economists and Vocational Rehabilitation Consultants when needed to establish past lost wages or loss of earning capacity in the future.
What Other Monies are Available?
You might be entitled to the following monetary damages in addition to those described above:
Past reasonable and necessary medical expenses
Future reasonable and necessary medical expenses
Mullen & Mullen Law Firm frequently uses life care planners on 18-wheeler accident and commercial cases. We front the cost of the expert report if you have sustained life-altering injuries and will need life-long accommodation.
Automobile repair costs
Replacement car cost; and
Diminished value.
Pain, Suffering, Mental Anguish & Impairment
If you have been involved in a commercial truck accident you may be entitled to non-economic damages for:
Pain and suffering – both past and future
Mental anguish – both past and future
Physical impairment – both past and future; and
Other non-economic damages.
Non-economic damages, unlike economic damages, are generally not ascertainable to a fixed degree. For example, if you made $5,000 a month and were injured in a truck accident that caused you to miss four months of work, your loss of earnings damages is clearly $20,000. Your individual pain, suffering, and mental anguish cannot be as easily quantified though and a jury would have complete discretion in computing these damages.
Mullen & Mullen Law Firm will often oversee preparation of a "day in the life" video. In fact, our firm has an in-house videographer. A video demonstrating a typical day in "your shoes" can often be the difference between a good settlement and a great settlement. Our attorneys have the experience to allow you to answer questions that detail your unique story and illustrate the devastating impact of your accident.
This not an exhaustive list and your attorney should carefully review your case to ascertain all available damages under the facts and circumstances of your case.
Can I Get Punitive Damages?
Punitive damages are designed to punish wrongdoers for reckless or grossly negligent conduct. In Texas these damages are generally difficult to obtain and must be examined on a case-by-case basis.
The potential for punitive damages should be explored in every case involving an 18-wheeler or commercial vehicle. Some situations where a finding of recklessness or gross negligence might be warranted include:
If the driver was found to be driving under the influence of drugs or alcohol,
If the driver was found to be driving while intoxicated,
If the driver violated his or her requirements to stop and rest for a minimum number of hours,
If the driver failed to properly secure his or her load; and
If the driver was operating his or her vehicle at a reckless speed.
What is the Value of your Truck Accident Claim?
Most attorneys will tell you what you want to hear, even though they realize your case value is directly tied to the extent of the injuries you sustained and other factors that could influence a jury, such as if the driver was texting when the collision occurred. Mullen & Mullen Law Firm offers guidance on expected case settlement value, only after we have reviewed all case documents and evaluated the arguments raised by the insurance adjuster. Would you want a surgeon to offer an opinion without reviewing medical records?
If you have suffered an objective injury, as opposed to a sprain or strain, your claim will have enhanced value. Measurable or easily observed injuries include things like fractured or broken bones, herniated or extruded discs, and other injuries which require surgery like a fusion or discectomy.
What if the Trucking Company is Arguing I Was Also Negligent?
If you are found to be negligent, the percentage of fault assigned to you by the jury is deducted from the total verdict. For example, if the jurors awarded $50,000 in damages but determined you were 20% at fault, the final verdict would be adjusted to $40,000.
If you were partly negligent, are you barred from obtaining a recovery in a commercial truck accident? No, except if the jury determines you are more than 50% at fault for the wreck. Recovery is possible even if the jury determines liability for the 18-wheeler accident should be apportioned 50/50, although the total damages awarded would be reduced by 50%.
What are "Reasonable and Necessary" Medical Bills?
Texas law states you are allowed to seek recovery of the monies you paid or incurred to doctors and other medical professionals. The medical bills must be both reasonable and necessary. Trucking companies almost always argue that at least some of the accident victim's treatment was unreasonable or unnecessary. They usually retain a medical doctor to perform a "peer review".
What is a Pre-existing Condition?
Our firm routinely requests and reviews pre-accident medical records so that the "Eggshell Plaintiff" doctrine can be argued if applicable. In addition, securing past medical records often leads to the best evidence of pain, suffering, mental anguish, and impairment.
What if You Decline the Trucking Company's Last Settlement Offer?
You have the right to initiate litigation against the driver and the company he or she was working for if you choose to decline their final settlement offer.
Should You Settle or Initiate Litigation?
All injury claims should be evaluated on an individual basis. Sometimes a $50,000 offer before initiating litigation ends up being more money in your pockets than a $70,000 offer made after a lawsuit has been filed.
Consider these factors:
Attorney fees will always increase if litigation is involved.
Case expenses, especially on commercial truck accident claims, usually dramatically increase in litigation.
Litigation is very time-consuming and often lasts 9-12 months.
Your health insurance company or a workers' compensation company might be more receptive to reducing a lien prior to the commencement of litigation.
It's Important to Obtain Records Related to the Truck's Daily Log and Driver Management System
Daily Log and Driver Management System
Commercial drivers are only allowed to drive a certain number of consecutive hours before the law requires them to stop and rest. The truck's daily log will demonstrate how many miles the driver drove that day. The driver management system should indicate geographical position, hours in service, load balance, and stability data, among other things.
Importance of Obtaining the Driver's Qualification File
Documents generated or maintained pursuant to Title 49 of the Federal Motor Carrier Safety Regulations, parts 382, 383, and 391, constitute the Driver Qualification File. This can be used to determine if he/she was qualified to safely operate the vehicle. These records are especially useful in combination with the driver's investigative history and personnel files.
Can the Truck's GPS System be Used to Strengthen Your Claim?
Yes, if GPS data is available it will be discoverable in litigation and can be used to strengthen your claim. GPS data will show where the truck was, at what time, and the route of travel it took. It is critical to quickly retain us as counsel so we can send a spoliation of evidence letter demanding that all relevant evidence – such as GPS data – be preserved.
Truck Accident Statistics in Dallas, TX
Truck accidents bring devastating consequences: injuries, property damage, and loss of life. In Dallas, Texas, with its busy highways, understanding accident statistics is crucial. The data, until 2021, offers insights into the truck accident landscape.
Total Number of Truck Accidents
In recent years, Dallas has experienced a significant number of truck accidents. In 2020, Dallas County had 7,771 truck crashes, causing 60 fatalities and over 1,000 injuries (TxDOT). It's important to note that these figures include accidents of varying degrees, ranging from minor incidents to severe collisions.
Fatalities and Injuries
Truck accidents tend to have a higher fatality and injury rate due to the sheer size and weight of commercial vehicles. Between 2016 and 2020, the number of fatalities resulting from truck accidents in Dallas County showed a fluctuating trend. In 2016, there were 80 fatalities, which decreased to 59 in 2017, then increased to 83 in 2018, dropped to 68 in 2019, and finally reached 60 in 2020. These figures highlight the need for ongoing efforts to reduce the number of fatalities.
Contributing Factors
Truck accidents in Dallas have various causes: fatigue, distraction, impaired driving, speeding, lane changes, mechanical failures, and weather. Raising awareness, stricter regulations, and better training can reduce these risks.
Time and Location
Analyzing the time and location patterns of truck accidents in Dallas can provide valuable insights for accident prevention initiatives. Certain months have higher rates of such accidents due to factors like holidays or weather. And major highways like I-35E, I-30, and I-635 experience the most volume.
Safety Measures
Dallas, state, and federal agencies implemented safety measures to reduce truck accidents. These include:
regular inspections of commercial vehicles to ensure they meet safety standards
enforcement of trucking regulations like hours-of-service rules
improving road infrastructure
implementing stricter penalties for traffic violations
promoting public awareness campaigns regarding safe driving practices around trucks
It is crucial to note that these statistics are constantly evolving. Government bodies, law enforcement agencies, and community organizations are always implementing new measures to reduce accidents.
Contact Us for a Free Consultation
Call (214) INJURED to talk to a Dallas truck accident attorney right now. We won't put any pressure on you to hire us on the spot. Simply learn how we'll approach your case and get some excellent free advice. Make your decision only when you feel 100% ready. Do remember though, that the Texas statute of limitations gives you just 2 years from the date of your accident to file a claim.
We'll come to your home or hospital room if it makes it easier on you! Phone and Zoom consultations are also available. You can call us, or use the form or chat feature on this page to request a free consultation now.
FILL OUT THIS FORM TO REQUEST YOUR FREE CONSULTATION NOW
Fast Attorney Response

Mullen & Mullen Law Firm
1825 Market Center Blvd #200
Dallas, TX 75207
(214) INJURED
Seriously Hurt? We'll Come to You!
Find Our 350+ 5-Star Reviews Here
Popular Links
Truck accident attorneys in Plano, TX
Truck accident attorneys in Frisco, TX
Truck accident attorneys in Fort Worth, TX
Joseph R. Morrison is the Senior Associate Attorney at Mullen & Mullen Law Firm in Dallas, TX, where he represents people personally injured due to the negligence of others. He was recognized by VerdictSearch for obtaining a Top 5 Premises Liability verdict in the State of Texas, and has been quoted in the ABA Journal.