INJURED DUE TO A SLIP, TRIP OR FALL?
NO FEE UNLESS YOU COLLECT
No Upfront Cost – Pay ZERO Fees of Any Kind Until After Your Case Settles
We Guarantee $$ in Your Pocket Or Waive Our Attorney Fees
Get Medical Bills & Treatment if Injured in a Slip, Trip or Fall Accident with $0 Out of Pocket
And With Our Discounted 29% Contingency Fee, You'll Get More $$ in Your Pocket Versus the Standard Personal Injury Attorney Fee of 33.3%-35%
FILL OUT THIS FORM TO REQUEST YOUR FREE CONSULTATION NOW
Fast Attorney Response

Gina West ★★★★★ These are professional people who really do care. I called them for the first time on yesterday about my vehicle accident and Josh represented the firm with compassion. He listened, explained that someone would be contacting me today and minutes later Matt called me. I was given the option of an appointment the same day or early the next morning at my home. Matt provided me with his direct contact phone number and his email address. It's with 27 years of serving, training and experience in the United States Air Force that I give this law firm the highest recommendation. Grateful indeed, Gina W.
Marvinette Monroe ★★★★★ I can't say enough about Josh and the team at Mullen & Mullen with assisting with my motor vehicle accident in Dallas, TX. They're consistently courteous, professional, and provide exceptional service. I will recommend their team for any motor vehicle accidents and slip & falls.
Amber Burnett ★★★★★ Mullen & Mullen assisted my husband when he was injured in a motor vehicle collision on Main Street. They are absolutely wonderful Frisco personal injury lawyers. They assisted him in getting the medical attention he needed following the wreck. When it came time to negotiate with the insurance companies, they wouldn't take no for an answer. Our attorneys kept the heat on until they finally had to do the right thing. I feel like a lot of firms would have given up and recommended a lawsuit right away but Mullen & Mullen attorneys are super ethical and determined. They were eventually able to help my husband get almost the full available policy limits without the stress and time associated with a lawsuit. If you need a Frisco car accident attorney these are the injury lawyers you should call. Highly recommended!
Chad Burnett ★★★★★ I hired Mullen & Mullen following a motor vehicle collision. I could not be more pleased with the Dallas personal injury lawyers I selected. They are the real deal! I was always kept in the loop on case developments. My attorneys sent the at-fault liability carrier multiple demands to make them agree to pay the policy limits. My lawyers also sent my own insurance company several demands to get them to offer me nearly the policy limits. A lot of attorneys would have given up and just recommended filing a lawsuit but Mullen & Mullen kept pounding the insurance companies until they did the right thing. This saved me a tremendous amount of money and time. I'm so very grateful that I found ethical, tenacious, and skilled attorneys to represent me. Mullen & Mullen gets my highest recommendation if you need a Dallas car accident attorney.C. Burnett
Diane Wallace ★★★★★ Mullen and Mullen did an absolutely brilliant job representing me in an injury lawsuit and getting me maximum settlement results. I recommend them highly!
Mari Hks ★★★★★ Highly recommend this law firm, Josh took care of my case he was very nice and professional along with everyone else.
Cayleb Murphy ★★★★★ Honestly 5 stars doesn't do them justice. Had an amazing experience working with Mullen and Mullen. I really felt taken care of throughout the entire process. Greg was especially nice to work with, he provided me with updates and answered all my questions whenever I had them. Would definitely recommend!
Zac Canida ★★★★★ I'm only 22 and this was the first case I've ever had, I got recommended Mullen and Mullen by a friend who has used them plenty of times and said nothing but good things about them. I have yet to see or hear anything that contradicts her statements! Everyone on the Mullen and Mullen team has been super helpful and kind to me by explaining everything that had and needs to be done to get the case in the right direction. Greg especially has been very helpful by keeping me updated and answering any questions I might have about the situation, he's been an amazing help and I'm glad I was able to get him assigned to help me get what I deserve from my car accident. Very professional and fast responses, If you are ever injured in a car accident I 100% recommend this team to fight for you, ask for Greg!
Tossem'Up52 ★★★★★ Wow! What a Great Law Firm Mullin and Mullin. I was in an accident not long ago and if there's ever a misfortune in my life as such, Mullin and Mullin will be the Law Firm that I choose again to take care of everything. Thank you Mullin and Mullin again for everything.
sisay Abera ★★★★★ Highly recommend this law firm, filled with very nice and professional people who put their clients first. Josh took care of my case and were able to reduce my medical bills significantly which was awesome! Very pleased and glad I had them to work on my car accident case.Thank you, Mullen & Mullen Law Firm
clara johnson ★★★★★ I was involved in a personal injury car accident in Dallas Texas, l worked with Josh and Jessica, they were fantastic. If I ever need help again l won't hesitate to contact them again.
Kimberly Palmoore ★★★★★ The best Accident Attorney's in the whole metro plex. Thanks Mr Morrison.
Terrie Rachall ★★★★★ Joe Morrison with Mullen and Mullen was fantastic representing me for an injury on someone's property. He kept me updated through the entire 2 year process. If I had any questions, Joe took the time to personally take my call and provide answers. Joe negotiated a settlement very quickly and ensured I received a fair settlement. I highly recommend Mullen and Mullen and would hire them again if I need help in the future. Best experience with any lawyer I have ever had!!
Caryn Bonosevich ★★★★★ Mullen & Mullen is awesome! Joseph and Erika made the process simple. I am thankful for the personal service I received.
Andrew Brown ★★★★★ Shane Mullen helped me with a complex medical malpractice case. His commitment to my case and attention to detail led to a favorable outcome. I highly recommend Shane and the Mullen & Mullen Law Firm.
Alex Malcolm ★★★★★ I was injured in a motorcycle accident, and Shane Mullen took on my case with determination and empathy. His attention to detail and commitment to my case led to a favorable outcome. I'm grateful for his hard work and highly recommend Mullen & Mullen Law Firm.
Christopher Castillo ★★★★★ I was involved in bad accident, Thanks to Jessica and Josh from mullen and mullens they help through the whole process. Help me get treatment and really took care of me. Help get back on my feet I really appreciate them.
R Brown ★★★★★ I have had such a wonderful representation under Joseph Morrison. He is a injury lawywer from Dallas and represented me on a case with several parties in a car accident. He worked hard, efficiently and quick to get me help and get the case settled. He is such an amazing attorney and his office staff is A+!
Natasha Malone ★★★★★ I had the honor to work with Mr. Morrison and his team recently and he was a life saver. He was thorough, detail oriented and down to earth as they come. He knows his law and doesn't make you feel like a number in line, but like a human. You can't go wrong with direct access and a discounted rate, I made the right decision and you will too.
Roison Fox ★★★★★ They helped me out of a tough situation, and never stopped fighting for what I deserved. I am so great full to have them as my law firm when I got in a bad wreck, I highly encourage they will support and guide you through out it all.
falisha jones (l0velisha) ★★★★★ I was involved in a car accident in Dallas texas off mockingbird. I was T bone by someone who had ran a red light. Me being a young female, I felt lost and taken advantage of by the other parties insurance.I chose Mullen Mullen because they were the only law firm who physically wanted to meet me and hear my side. They helped me with all on the medical assistance that I needed . Although it was a lot of therapy, I was really happy with the doctors they sent me to. Josh was very welcoming and I honest in the process. Every time I felt so at ease after speaking with him. I am so happy I had him on my case. Very hands on. Highly recommend!!!
Jacob Colerick ★★★★★ I cannot express how much Mullen & Mullen helped me turn a rough situation into something I could get through and manage properly.I was in a car accident on the way to work, and had chosen Joseph Morrison to represent and advise me on the matter. He provided me with solid advice and the right information to make educated decisions in the process of recovery. He was also extremely responsive and forthcoming whenever I had any questions. I had very little experience in legal matters so everything was new to me. Joe walked me through all the steps, helped coordinate my appointments with the right doctors, and definitely went above and beyond expectations. I am more than pleased with the outcome and would recommend both him and this firm to anyone!
Lisa Tennant ★★★★★ I want to share our experience with Mullen & Mullen who Truly is a five star law firm.My daughter was involved in a serious accident she was 8 1/2 months pregnant and she suffered serious injuries and lost her baby.The person that hit her had no drivers license and no insurance.Not deterred by this Joseph Morrison was masterful at working our case. He was able to get our insurance company to agree to the maximum settlement under our uninsured/underinsured coverage. In addition he was also able to get our health insurance company to drop a huge lien against our settlement.Joe Morrison and his team were so empathetic to our situation. Even though there are limits to what you can be awarded under uninsured/underinsured they never made us feel unimportant.They fought for us and we felt as though they truly cared about us and wanted to have the best possible outcome.Joe Morrison was a true champion for our family and we highly recommend him and their firm.We are so glad that we chose Mullen and Mullen and so grateful for the quality services they provided.We all feel they are the best choice among many and were the right choice for our family.
Richard Taylor ★★★★★ I cannot say enough good things about Mullen and Mullen, they are the best in the business! With a permanent neck injury, after already having a discectomy, my future was looking very dark. They got the full term limits from all parties and gave a light for my future instead. Always professional, and the best I've ever seen at answering concerns, and returning phone calls and messages. They are not just a cut above, they are the gold standard of what great attorneys should be. I especially want to thank Joe Morrison and Rosa, you are tops. Thank you both so very much.
Klaus Dausmann ★★★★★ Mr. Joseph Morrison represented my daughter during that difficult time did not only get the professionalism that we needed but also a insurance of true empathy and respect for us as human beings. not one time did I feel that I am just a case. outstanding performance and customer service.
I would recommend Mr.Joseph Morrison to my family and friends with good cognition
Ms. Macias 2A ★★★★★ They really took care of me and did everything possible for me to get the most out of my accident! Highly recommend! Friendly staff that genuinely cares about you and makes you feel like they'll do do anything in their power to help you.
Paul Nolan ★★★★★ I've consulted with Joseph Morrison on a number of legal issues. He's a fantastic attorney and I highly recommend this firm.
Stephanie Hull ★★★★★ Shane is a great lawyer. Him and his team were very understanding, professional, and informative. They deserve more than 5 stars and were great to work with. Thank you Shane!
Veronica Da Ponte ★★★★★ The Top Choice community thanks you for your dedication to your city and celebrates your 2020 win with enthusiasm!
Ellis Leigh Gardner ★★★★★ Josh Banks at this law firm did such a wonderful job helping me with my case that started in 2017. It may have taken some time, but he was very meticulous and made sure he had everything ready to go. I definitely would recommend him to anyone that is in need of a good lawyer!!
Nathan Neto ★★★★★ As a 2019 Top Choice Award Winner, they have proven their dedication to their city by consistently providing excellence through their services. 5 stars!
Dyvine Silvestre ★★★★★ They won the 2019 Top Choice Award for their excellence in the pursuit of top customer satisfaction and that equals to hundreds of great customer reviews! Thank you for sharing your passion with your beautiful city!
Tami Gray Jordan ★★★★★ I am thankful to this law firm. Mr. Shane Mullen is not just an impressive and talented attorney, he also treats a person with respect. He takes his job very seriously, and he is compassionate with a case he takes on. To add, his assistant is awesome. Thanks!
Roy C. ★★★★★ The handling of my case from a car wreck incident from the beginning, Josh Banks always had time to answer my questions and would give me updates when I asked. Aside from injury that I sustained, I always felt supported because they proved to me that they where working for the best interest of my situation and needs. I do not know what I would have done without you guys! Especially you Josh! I appreciate your kindness, patience and professionalism. The settlement amount was enough for my future concerns to help me reestablish myself because of my continued long term effects from the accident. Thank you so much!!!
Laura Servidone ★★★★★ Mullen and Mullen, was the law firm I choose to represent me for a commercial accident case. I worked specifically with Joe Morrison who went above and beyond to help get a settlement during the most difficult time in my life. I was in and out of the Hospital for a year. Surgery was necessary immediately on my hand, also suffering from multiple herniated disks, 5 hematomas, and stiches where my left eyebrow used to be. I feel blessed to have such a competent law firm and lawyer on my side. Thank you Joe!
Laura Villa ★★★★★ I am beyond grateful to this law firm and especially to Josh Banks. Josh delivered the greatest news several weeks ago. He notified me that my case had settled for an amount that I never imagined!!! Thank you Josh for suggesting to wait it out. This money couldn't have come at a better time. If yall only knew how many sleepless nights I had worrying how my situation would end. Thank you, thank you, thank you!!! Oh and by the way Josh I will be plugging in your number into my telephone and I will definitely be recommending you to anyone who needs representation!!
Tape Mastah Steph ★★★★★ Mullen & Mullen are 100% true honest life savers.. They deserve 10 Stars!! Thank you for everything, Shane. You're the best! - Stephan
Danielle Johnson ★★★★★ Mullen & Mullen is an awesome law firm and they are very professional and provide excellent service would give them 6 stars if it was possible and I want to add a special thanks to Josh Banks who was with us every step of the way and made sure I was taken care of through this rough time.
Jessica Cullum ★★★★★ Josh Banks is awesome to work with! Mullen and Mullen is such a great law firm!!
Kyshia Roney ★★★★★ I really love MullennMullen law firm they really came through for me when I need them the most Joshua banks was able to get me back more then though I would get back. He returns my phone calls the same day and explain everything very well I highly recommend them.
Good Life ★★★★★ I must admit before choosing Mullen & Mullen. I took advice from a friend who insisted that I contact another law firm who's name I was very familiar with, from constantly hearing there commercial on the radio. When I called the other law firm they set me up an appointment to come in an speak to someone. I went and was very impressed with how nice there office was, however I was not impressed with how much there fees where. Let's just say that I could see why the decor was so nice after I learned what they would charge me for representation. I politely declined and limped right out of there office. I then went home and started doing my own research online going from one firm to another, reading review after review and came across Mullen & Mullen. I called the office explained my situation just as I had done with the other law firm and the first thing that the lady asked me from Mullen & Mullen was would I like to come in? or Would I like for someone to come out to my home to talk with me? They sent someone out, he answered all of my questoins. He was very thorough and professional so I was only a little impressed at this time, until he explained to me what there fee would be. And that's when I became even more impressed. I was told that a Mr. Josh Banks would be contacting me and would be handling my case. Mr Banks always kept me informed with what was going on and would check to see if I was satisfied with the services that I was receiving. He also got me the maximum amount that I could receive without charging me an arm and a leg, the process didn't take long and I didn't have to go into some fancy smancy office. Over all my experience with Mullen & Mullen has been great! Keep up the good work Mullen & Mullen!
Debbie Wilson ★★★★★ Truly great firm! Joseph Morrison went the extra mile to secure great results in a timely manner. I feel lucky to have found the firm and highly recommend, thanks again Joe!
Joyce Terry ★★★★★ Josh and Jessica did an awesome job working on my case and got me the settlement I deserve. Other staff member were great and welcoming.
Mason DuPont ★★★★★ Shane assisted me with my second case and much like the first one, was very informative and got me taken care of better than I'd hoped for. I recommend this law firm to anybody that would need an attorney!
Talia Lozano ★★★★★ My husband and I worked with Joseph at Mullen & Mullen, he was extremely sincere and personable, he did everything he said he would and always followed up when promised. Mullen & Mullen took care of us from the very beginning making everything extremely easy to get the help we needed. It was our first time having to go through something like this and Joseph took care of us the whole way. We also had a recent bankruptcy due to loss of job, and Joseph was able to work with the trustee to get us even more than the court's exception would allow in our particular circumstances.My husband also wants to shout out to "Mike", the original representative we met with after our accident, he was extremely knowledgeable and made everything feel right when signing on with Mullen & Mullen, and gave us the confidence we had nothing to worry about.We were referred by my brother Carlos L. who went to school with Mr. Mullen's son and are glad we took his advice!
Stacey Lawrence ★★★★★ I cannot say enough about Mullen & Mullen... I've been working with Shane Mullen and from the beginning he has taken the time to answer all of my questions and explain the process to me in terms which I could understand. He has personally called me through all of this giving me updates and advising me of my options. Other than showing up to my rehab appointments, Mullen & Mullen has done everything else.I am very grateful that I looked at the reviews such as this one and decided to give them a call because it has truly worked out in my favor.Thanks Shane!
Deon Johnson ★★★★★ Definitely the best in the business. It is seriously a team effort with the Mullen and Mullen law firm. I hope No one has to go through a situation like mine but if you do I strongly recommend going to Mullen and Mullen . You will rest a lot easier knowing they have you back .
Allie Farooq ★★★★★ We were hit by a drunk driver in Mesquite Texas, and immediately went to google search to find an attorney at the scene. We were very apprehensive because we had never been in this type of situation, and never had hired an attorney for a car wreck. We solely chose Mullen and Mullen based on their 5 star review. We are so glad we made this decision! We were both hurt bad and had to see doctors and go through physical therapy. Joseph Morrison handled our case and was so extremely caring and understood our pain, he took his time with our case. Every time I called, he answered, and spent so much time on the phone answering each question. He made sure we got all the treatment necessary before closing our case. We were extremely pleased with the end and will always call if we ever need him. My husband told me it's so easy and they are so nice it makes me nervous. We learned it really was just easy! They really did have our best interest at heart. Our neighbor had a similar wreck and we told them to call and they didn't. They lost so much and the wife still has pain to this day. She always says to me we should have called.
Brittany Puckett ★★★★★ I want to thank Joseph with Mullen & Mullen for being the best attorney anyone could have asked for. He worked very hard in getting the medical help I needed after my auto accident. He made me feel like I was his only client. He kept me informed on what was happening during my case and truly cared about my health care needs. His hard work and legal knowledge helped me in getting the insurance limits for pain and suffering allowed. It was more than I expected. Thank you for everything you did for me. I highly recommend Joseph Morrison with Mullen & Mullen Law Firm.
Kimberly Greer Nichols ★★★★★ I hired Shane Mullen as my personal injury lawyer for a slip and fall case. I hired them because of the positive reviews they had as well as the amount of experience. I was not disappointed. Shane and Mullen & Mullen did a great job for me and I couldn't be more pleased.
Razieh Shoorab ★★★★★ As a future chiropractor who also works for a successful chiropractic office, I deal with many personal injury cases as well as different lawyers. Hands down Mullen & Mullen has been the best. They really do take their business to a personal level. After a screening call from one of his assistance, it was the next day that Shane Mullen called me. I will never forget our first conversation and one thing in particular that he said to me. I said, "This is the first time I am talking with you but I trust you so much" and he replied: "I Fully Trust Myself Too." That was what I wanted to hear. I wanted to make sure that my lawyer is confident and my case is in good hands and with that settlement he proved his confidence and competence. As an experienced client I suggest that if you ever involve in an accident and need an attorney, do yourself a favor and call Shane Mullen. He will represent you with a passion for justice. Thank you Shane, you are amazing!
Razieh Shoorab ★★★★★ There is no way I can express my gratitude towards Mullen & Mullen law firm. Working with them has been by far the best legal experience I have ever had. I was not a million dollar client but was treated like one. I am so grateful that my case was accepted by them and very thankful that I have been awarded a great and beyond imagination settlement because Shane Mullen fought for me relentlessly. I highly recommend everyone to give him a call before turning into any other lawyer. Great job and Thank you again!
Danielle Valentino ★★★★★ I had used them before and I delt with Shane Mullen and I can say by far the BEST lawyer I have used! Helped me tremendously! If you need a lawyer call them. Hands down the best!!!!!
Diane MacNeil ★★★★★ Having Shane on your case is like sending a pit bull after any other dog - they may "bow up" to try to look bigger and stronger, but the pit is going to win in the long run!
Milagros Yates ★★★★★ This is the best law firm in Dallas Tx. This is my second case with this law firm, If I ever have another case I will go right back to him.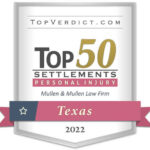 Not only do we offer the lowest fee, according to TopVerdict.com, our Dallas premises liability attorneys obtained 43 TX "Top 50" personal injury settlements in the last 3 years. We will maximize your compensation, and you will pay ZERO until after your claim settles. Just call (214) INJURED now to talk to an attorney who cares, or use the form or chat feature on this page to request your free consultation.
Top Dallas Slip and Fall Lawyers Who Settle For More
If you were injured in a slip and fall accident, our skilled Dallas attorneys are prepared to vigorously advocate for your rights. In fact, our firm consistently obtains top results on premises liability cases for clients injured by whatever means while on someone else's property including retail stores, office buildings, apartment buildings, construction sites, and other commercial establishments.
Mullen & Mullen is consistently recognized by TopVerdict for obtaining some of the largest recoveries in the entire state of Texas. In the last 3 years our firm made the Texas "Top 50 Personal Injury Settlements" list 43 times. Our stellar results allow us to offer a below industry standard 29% pre-suit contingency fee which means more money in your pocket.
Our experienced local team has an incredibly strong work ethic and truly cares. We've been privileged to serve North Texas for over 40 years. This is our backyard. Call (214) INJURED now for a free consultation and some excellent advice.
A Message From Our Senior Associate Attorney
"Premises liability cases are won and lost over small details. Our two in-house investigators gives us a competitive advantage."
When most people are asked about premises liability cases they immediately think of "slip and fall" cases. That's just one type of premises liability case though. You have a valid good-faith premises liability case if you were injured by whatever means while on someone else's property due to their negligence. We routinely represent North Texans who were injured at retail stores, office buildings, construction sites, or other commercial establishments.
For example, I remember one case where we were retained by a sweet elderly client. She was unsure if she had a valid good faith premises liability case. All she knew was that she had slipped in a puddle of water inside a grocery store. She didn't know why it was there and could not point to any evidence that employees had actual knowledge of it. To win the case we would need to establish the store had constructive notice of the dangerous condition – which in this scenario required an analysis of the combination of proximity, conspicuity, and longevity.
In most premises liability cases you need to establish (1) the presence of a dangerous condition that was not open and obvious, (2) that the owner or party in control of the property knew or should have known about, and (3) they failed to warn you of the dangerous condition or make it safe.
It can be difficult to prove the owner or party in control created the dangerous condition or had "actual knowledge" of the dangerous condition. Instead, most premises liability cases usually hinge on whether the Defendant(s) had "constructive notice" of the dangerous condition. In other words, is it more likely than not the dangerous condition existed long enough to give the premises owner or party in control a reasonable opportunity to discover it?
Timely securing critical evidence is paramount in premises liability cases. One of our competitive advantages is having two full-time investigators whose services we provide free-of-charge to our clients so that key evidence can be developed and obtained.
If you were injured on someone else's property or business, you shouldn't agree to give the insurance company a recorded statement until you let one of our experienced attorneys prepare you to frame the case in a way that is most advantageous for you. These types of cases can be won or lost based on very small details.
Getting back to the case of our sweet elderly client, after a very detailed question and answer session we were able to discover several key facts that proved favorable to her case. The water in question was located near cash registers where multiple employees were stationed ("proximity"). After the fall, her entire back was wet – indicating a significant amount of water was present ("conspicuity"). We quickly sent one of our in-house investigators to the store. He obtained photographs & video demonstrating a small soda fridge was slowly leaking near the location where our client fell. This demonstrated the sizeable puddle in question had formed slowly over time ("longevity").
We took time to figure out what had really happened and obtained a great result for a very deserving client. At the conclusion of her case, she told us she was just glad to be able to receive excellent healthcare and never expected such a sizeable recovery.
Joseph R. Morrison, Attorney at Law
A Little About Our Highly Skilled Attorneys
Attorney Shane V. Mullen, Managing Partner
Managing Attorney, Shane V. Mullen has been handling slip and fall cases for 21 years. He is "Top Rated" by Thompson Reuters who named him as a Texas Super Lawyer 3 consecutive years. Shane is also a lifetime member of both the Million & Multi-Million Dollar Advocates Forums, solidifying his expertise in handling significant cases. He is also an esteemed member of Rue Ratings' Best Attorneys of America, further attesting to his exceptional legal prowess. Shane brings hard-won, battle born knowledge to your case.
Attorney Joseph R. Morrison, Senior Associate
Attorney Joseph R. Morrison has been handling premises liability cases for 18 years. He has established himself as a highly skilled legal professional. Notably, he served as counsel of record in a case that garnered recognition from VerdictSearch.com as a top 5 Premises liability (slip and fall) settlement in Texas. The defendant in this case was a Fortune 500 company with an annual revenue exceeding 11 billion. The specific case, Jeffrey Young v. ConAgra Foods, Inc., showcased Joe's exceptional abilities in achieving favorable outcomes.
Joe is a distinguished member of The National Trial Lawyers: Top 100 Civil Plaintiff Trial Lawyers, solidifying his standing among the nation's most esteemed legal practitioners. Furthermore, his membership in both the Million & Multi-Million Dollar Advocates Forums further attests to his expertise in handling substantial cases.
Attorney Regis L. Mullen, Founder
Attorney Regis L. Mullen, our Founder, has been handling slip and fall cases for 56 years. He received his Admission to practice law in 1967, and was previously a Litigation Supervisor at Allstate Insurance Company. Regis knows all the tactics liability carriers use to deny or reduce personal injury settlements. Drawing upon his profound comprehension of the inner workings of the insurance industry, he established a law firm dedicated to meeting the legal needs of injured individuals in North Texas.
About Slip and Fall Cases
Texas law is not on your side.
The legislature and courts across the State of Texas have made it very difficult for victims to recover damages in slip and fall / premises liability claims.
You must generally demonstrate the at-fault party knew or should have known of a dangerous condition and that they owed you a legal duty to either warn you of the condition or to make it safe. The duty owed is based on whether you are classified as an Invitee or a Licensee while on the premises.
Mullen & Mullen Law Firm in Dallas has represented hundreds and hundreds of clients – and won millions in settlements – for people physically hurt at office buildings, apartment complexes, restaurants, department stores, convenience stores, grocery stores, and other retail outlets like Walmart.
We have the financial means, knowledge, skills, and experience to properly develop your case. Our Dallas lawyers will establish the facts necessary to obtain a settlement for your slip and fall injury.
In fact, our Senior Associate Joseph Morrison served as counsel of record in a VerdictSearch recognized Top 5 Texas Premises Liability verdict in Texas one year.
What should you do immediately after a slip and fall accident?
Do you have a premises liability or a negligent activity claim?
The first thing to establish is if you have a premises liability or a negligent activity claim. This short video explains the difference between the two.
When you slip and fall on someone's property in Dallas, whether it's a local park, government building, private or public business, or just another person's home, how and where the accident occurred depends on which body of law governs your case.
If you were hurt at the same time the negligent act or omission occurred, you have a negligent activity claim. That's significant because proving the defendant breached a duty of safety in a slip and fall case is less difficult in negligent activity claims than in premises liability claims.
All you have to prove is:
The defendant owed a general "duty" of care (as measured by what a reasonably prudent ordinary person or business would do (or not do) under the same or similar circumstances);
The defendant "breached" that duty;
The breach "caused" your accident (as measured by the "but for" test and the "foreseeability" test); and
You suffered and sustained "damages" (as the law delineates and defines).
Example of a Negligent Activity Claim
You are standing in a grocery store looking at merchandise when an employee, obviously not paying attention, accidentally pushes a chain of shopping carts – striking you in the back and knocking you down. Here, your injury or injuries occurred at the same time as the negligent act. To establish the duty of care was breached you must simply prove that a reasonably prudent store employee would have paid attention while pushing a long chain of shopping carts. You can argue common sense, store training policies and procedures, and attempt to get the employee to admit he or she should have been paying more attention.
Are witnesses important?
Absolutely. Witnesses can sometimes make or break a Dallas slip and fall case. It is imperative that you retain information on all possible witnesses as they can often be utilized to demonstrate the store knew of – or should have discovered – a dangerous condition.
Remember: Even if no one witnessed your slip and fall accident you can still establish facts necessary to support and win your personal injury claim. In most cases your own testimony alone can establish the facts necessary to support your claim for damages.
Does it matter who was around me when I fell?
It might. Suppose there is a puddle of water on the floor in a store – which qualifies as a dangerous condition. If two employees were in close proximity to the puddle, it would be easier to argue the employees knew of the water on the floor or should have discovered the water on the floor (and made it safe). Think back to your slip and fall accident. Were any employees stationed near you when you fell? Was the area where you fell located in a main aisle or section of the store? Was there anything located near where you fell suggesting one or more employee(s) had been in the area immediately before your fall?
Case Example 1
Mullen & Mullen Law Firm represented a woman who was hurt at Walmart. She slipped and fell in a puddle of water that leaked in from the ceiling. Our lawyers argued the area where she fell was in eyesight view of three employees based on the evidence developed.
Case Example 2
Our Dallas lawyers represented a man who slipped and fell at a Kroger grocery store due to water on the floor in one of the aisles. Mullen & Mullen Law Firm argued that a pallet with products to be stocked – located close to the water – proved that a store employee had been in the aisle prior to our client's fall and should have discovered the dangerous condition.
Does it matter what the employee(s) said?
It might.
For example, if a store manager acknowledged that he or she had told one or more employee(s) to clean up a spill prior to you falling, that would obviously suggest that the store by and through its employee(s) had actual knowledge of the dangerous condition. Sometimes statements can establish constructive notice – meaning that the store should have discovered the dangerous condition.
Remember: Constructive notice can be established in a multitude of ways. For example, if the puddle you slipped in had multiple "tracks" through it you could argue that the puddle had existed long enough for multiple people to encounter it and should have been discovered.
An example: We previously discussed the woman we represented who was hurt at Walmart when she slipped and fell in a puddle of water that leaked in from the ceiling. Our Dallas slip and fall lawyers also demonstrated multiple employees had a view of the aisle in question. Mullen & Mullen still had to establish that the puddle of water in question existed long enough that the store employees should have discovered it. Our attorneys argued that the size of the puddle (which was the size of a medium pizza) coupled with the slow leak (dripping every 3-4 seconds) necessarily meant that the puddle accumulated over a long period of time.
Who are the potential at-fault parties in a Slip and fall accident?
Many potential parties could be responsible for your injuries. These parties could differ based on the type of establishment you were injured at. For example:
Retail Store: The owner of the building and the possessor of the building are both potential parties depending on what the alleged dangerous condition is.
Government Building: The city, county, an agency, or the State of Texas may be potential parties. It is important to remember governmental units and entities often have strict requirements for filing a Notice of Claim within a specified time period – sometimes as little as 30 days. If you fail to meet the notice requirements in your slip and fall claim, you could be barred from receiving damages.
Apartment Complex: The owner of the apartment complex as well as a property management company may be potential parties.
Residence: The owner(s) of the home or tenants may be potential parties. It is important to remember that most homeowners have insurance to cover these losses.
In short, the owner of the premises, manager, and any possessor of the premises could be liable for your injuries.
In Texas, the game changes when you're injured on government owned property.
There is much less time to file your claim
In Texas, the statute of limitations in a premises liability case is 2 years from the date of the incident that caused your injuries. You must settle all claim(s) or have filed suit (and served) all Defendants before the expiration of the statute of limitations period, or you will forever be barred from recovery.
If you're injured on government property, however, you must also file a notice of claim with the applicable government or entities. The notice period under the Texas Tort Claims Act is 6 months but some local jurisdictions set even shorter deadlines – sometimes as little as 30, 45, or 90 days. It's critical to report your injury immediately and seek legal help quickly so your claim(s) remain valid.
Here's how your compensation can get reduced
When you slip and fall on private property in Texas, insurance policy limits become subjective and are much higher. In general, you can recover full compensation for economic damages (income loss, medical bills, lost capacity to earn, damage to your property) with no limit.
On private property, you can also recover damages for non-economic harm (emotional pain and suffering, lost companionship, and others), although that is rare and harder to prove.
The same goes for punitive damages, which are also rare because they aim to punish the institution or individual for their grossly negligent behavior that causes severe injury.
Your compensation is impacted by where your injury happened.
When you slip and fall on private property in Texas, the owner or possessor's (or both) liability policy limits will usually have some bearing on your maximum compensation. Unless, of course, the owner or possessor is incredibly profitable in which case the policy limits wouldn't necessarily matter. For example, let's say you fall and sustain catastrophic injuries due to a slippery substance on the ground.
If you were injured at a small mom and pop restaurant, you would have to give serious thought to accepting a $500,000.00 policy limits offer – even if your actual damages were more than that amount – since you would have no guarantee of collecting a judgment exceeding that from such a small business. Conversely, if you were injured on Amazon's property and they had $1,000,000.00 liability policy limits – but your damages were beyond that – you would obviously not agree to accept their limits even if they were offered. You would pursue compensation for your full economic damages (income loss, medical bills, loss of earning capacity) and full non-economic damages (pain and suffering, mental anguish, impairment, etc.).
Your damages are capped, however, when dealing with governmental entities.
Here's what you're allowed to be compensated for claims against a unit of local government:
$100,000 per person
$300,000 per occurrence
$100,000 for property damage
Here's what you can recover for claims against a state agency or municipality:
$250,000 per person
$500,000 per occurrence
$100,000 for property damage
How sovereign immunity protects the government
In England, prior to the formation of America, you could not sue the king or government for any reason. Ever. That's where the doctrine of "sovereign immunity" comes from. That's what feeds this greater difficulty in suing government bodies in Texas. However, they don't have total protection like old England. A government entity does not have sovereign immunity when performing functions that benefit only its citizens.
It does have sovereign immunity, however, when performing functions that benefit both citizens and non-citizens. So, slipping and falling on government property makes your situation more complex, but not impossible. Just remember to report your accident to the government entity ASAP and get in touch with a qualified attorney to make sure you protect your rights.
How can our lawyers help?
Our attorneys have access to extensive databases utilized to identify the owner(s) and/or manager(s) of premises. Our lawyers use this information to quickly send out spoliation of evidence letters to potential parties directing them to preserve all evidence that could be helpful to your slip and fall accident case. For example, many stores have surveillance cameras that might have captured your fall. It is of critical importance that you retain legal counsel quickly since video footage is often recorded. Some companies only preserve the footage for mere days.
What was your status on the property: Invitee, Licensee, or Trespasser?
Does it matter what you were doing on the property at the time of your accident?
Absolutely. Your legal status on the property in question dictates the duties owed to you by the potential responsible parties. In addition, it also dictates whether comparative negligence could prevent you from recovering damages.
Who is an invitee in a Dallas Slip and fall case?
An invitee is an "invited guest." You're an invitee when you're on the premises or at the business by invitation. The invitation can either be direct (in other words "express") or "implied," (like when you're expected to enter stores, restaurants and other establishments open to the public for the purpose of shopping, eating or entertainment.)
An Example: You go to Best Buy to buy a television. While in the store you slip and fall and injure yourself. You would be classified as an "Invitee" because you were at the premises at the implied invitation of the store to purchase products. Best Buy is held open to the public and your presence was mutually beneficial to Best Buy. They wanted you to walk in and buy a television or some other product.
Another Example: If you went into a gas station simply to use the restroom but didn't intend on purchasing anything, you would not be classified as an Invitee.
Typical invitee scenarios include a shopper in a store (like in the Best Buy example above), patrons at a restaurant, a client visiting an office building, or a hotel guest.
What duties are owed to an invitee?
The owner (or whoever is in control of the premises) owes you, as an Invitee, the duty to not only warn about or make safe unreasonably dangerous conditions which they actually know about, but they also owe you the duty to reasonably inspect for and discover unreasonably dangerous conditions and warn you of or make safe those conditions. You still have the right to bring a cause of action if the dangerous condition was open and obvious, but the owner or possessor can argue that some percentage (up to 100%) of your slip and fall injuries were your own fault – that you were also negligent. It's ultimately up to the jury to assign percentages of fault if the parties can't negotiate and agree on a settlement themselves.
Remember: If a dangerous condition was open and obvious it will impact your recovery. For example, if you slipped and fell in a puddle of water that had been marked off by three bright orange cones you would be unlikely to recover damages. If no cones were present but you slipped due to a yellow substance on a white floor, jurors could determine the store should have discovered the dangerous condition but that you too should have seen it and apportion fault 50/50 amongst the parties.
Who is a licensee in a premises liability case?
You're a licensee when you're on property that isn't open to the general public, but the owner of the property has either expressly or impliedly allowed you to enter, usually for a purpose other than a commercial one. Examples include, but are not limited to, when you're on site at work, when you had to be in possession of a ticket to enter a sporting arena or stadium to watch a game, and when you're a social guest at someone's home or private party.
What duties are owed to a licensee?
The owner (or whoever is in control of the premises) has a duty to warn you of – or make safe – unreasonably dangerous conditions they have actual knowledge of. They don't, however, have a duty to inspect for dangerous conditions. In addition, if you are found comparatively negligent as a licensee you are unlikely to recover damages. Now you understand how critical your status is!
Who is a trespasser?
You are a trespasser if you have no legal right to be on the premises or are on the premises without any permission whatsoever – express or implied.
What duties are owed to a trespasser?
Essentially none. The only practical exception is for an attractive nuisance. For example, a child drawn to a neighbor's water slide and the neighbor fails to gate off access to it.
How do you establish actual or constructive knowledge of a dangerous condition?
Establishing that the at-fault store or establishment had actual knowledge of a dangerous condition in a Dallas slip and fall claim is often difficult. It is not impossible though. Below are some situations where actual knowledge could be alleged:
Employee Statements
If an employee admits they knew about the dangerous condition prior to your fall.
Store or its Employee Created the Dangerous Condition
Actual knowledge is presumed if the store or one or more of its employees created the dangerous condition in question. For example, actual knowledge could be presumed if a McDonald's employee mopped the customer restroom and left without placing a yellow warning sign and you slipped and fell. You would need, of course, to demonstrate the floor was freshly mopped. This would be suggested, for example, if the whole floor was uniformly wet.
Circumstantial Evidence
Actual knowledge might be demonstrated by producing evidence that an employee attempted to clean up a spill but did so in a negligent manner. For example, our Dallas slip and fall attorneys represented an elderly woman who was injured at a movie theater. Mullen & Mullen was able to use witness statements indicating paper towels were on the floor near the spill to demonstrate an employee had undertaken to clean up said spill but had failed to eliminate all of it prior to our client's fall.
Video Footage
Many businesses and retail establishments have surveillance camera systems. Our attorneys can request video footage of the slip and fall incident if it exists and examine the footage to determine if any store employee(s) walked by the spill, for example.
If you are an invitee you don't have to show the store or business had actual knowledge of a dangerous condition to recover damages. You need only demonstrate that the store or business should have known of the dangerous condition and failed to warn you of it or make it safe.
Examples:
Proximity to the Spill
Was a store employee or agent of the at-fault party located near where you fell immediately prior to your fall? If so, you can argue the employee or agent should have discovered the condition. For example, if a grocery store employee was stocking items in the same aisle where you fell when you fell. Also, if employees were stationed near where you fell or had a view of where you fell prior to the incident, it is easier to suggest the spill should have been eliminated or that they should have warned you by placing a warning cone near the spill.
Remember: Most retail employees have a duty to monitor their surroundings to discover dangerous conditions. Many establishments have policies and procedures established for dealing with spills. For example, many establishments instruct employee(s) who discover a dangerous condition to "guard" it until they can get the attention of a co-worker to assist them. Further, some establishments instruct employees to place store products or merchandise on the floor around the spill to make sure customers are aware of it until it can be eliminated.
Conspicuousness of the Spill
How big was the spill? It is obviously easier to suggest that a store employee should have discovered a large pizza-sized puddle of water as opposed to a single drop of water on the floor. What color was the liquid on the floor? It is obviously easier to suggest a store employee should have discovered a red-tinted liquid as opposed to a small amount of clear liquid on a white tile floor.
Passage of Time
The passage of time can be used to establish constructive knowledge of a dangerous condition.
Examples:
If a 2-foot-long trail of water from a leaking freezer led to a basketball-sized puddle it could be suggested the water was on the floor an extended period of time.
If you slipped and fell on ice cream on the floor and the ice cream had congealed prior to your slip and fall.
If you tripped and fell in a deep pothole in the parking lot – since potholes do not form instantaneously.
How can our attorneys help?
Establishing constructive notice can be challenging and requires a detailed discussion of the unique facts and circumstances of your case. Mullen & Mullen in Dallas has many years of experience in analyzing case facts to establish the requisite notice. Our law firm employs 2 full-time accident investigators to aid in gathering the evidence necessary to properly develop your case.
Does the reason you were at the premises in question impact the duties owed to you?
Yes. Your status as an Invitee, Licensee, or Trespasser dictate the duties owed to you by the at-fault party or parties.
Remember: If you are an Invitee (such as if you were shopping at a grocery store or at a restaurant to purchase a meal) the at-fault party owes you a duty to warn you of known dangerous conditions and/or make known dangerous conditions safe as well as a duty to discover dangerous conditions on the premises and warn you of or make safe those conditions as well. If you are a Licensee (social guest at someone else's home, for example) the at-fault party only has a duty to warn you of a known dangerous condition and/or to make safe known dangerous conditions.
Remember: The duty to make safe and/or the duty to warn will differ from case to case. For example, in a slip and fall accident case where water was on the floor, the duty to warn would include placing an orange cone or yellow "wet floor" sign near a spill. The duty to make safe would include – obviously – having an employee clean up the spill. If the dangerous condition was a pothole, for example, the duty to warn would include placing a sign near the pothole to alert customers to its presence while the duty to make safe would – obviously – entail repairing the pothole so that the parking surface is uniform.
Obtaining Medical Treatment or Therapy after a Slip and Fall Accident
If you don't have health insurance, or money to pay your deductible, can you still get medical treatment or therapy?
Yes. Our lawyers understand millions of Americans still lack health insurance. Mullen & Mullen also realizes the high cost of medical services and outrageous deductibles could limit your ability to get the medical care you need and deserve. Our law firm has relationships with a variety of medical professionals who specialize in treating accident injury victims.
Will you be required to pay for these services at the time they are performed or rendered?
No. The medical professionals and organizations our lawyers have relationships with will not bill you for services until the conclusion of your premises liability claim.
What are common injuries people sustain in Slip and fall accidents?
The following injuries are fairly common in claims where clients have been injured at a work site, office building, apartment complex, department store, grocery store, convenience store, restaurant, or other retail establishment:
Disc extrusions
Spinal injury requiring a fusion or discectomy;
Torn meniscus of the knee;
Torn rotator cuff;
Sprain/Strain of the spine;
Fractured or broken bones.
Of course, people can get injured in countless ways and sustain various injuries from falls. The above list is not exhaustive.
How can our lawyers help?
Mullen & Mullen in Dallas will establish the mechanism of your injury. How you fell and/or landed and/or the positioning of your body can impact your claim value.
Obtaining a Law Loan
Can you get an advance on a case in exchange for an interest in the potential settlement proceeds?
Yes. Most law loan companies, however, are more hesitant to advance money on these types of cases as opposed to a motor vehicle collision case.
How can our lawyers help?
Most law loan companies will not advance you money unless you have an attorney. Mullen & Mullen has established relationships with law loan companies who trust our ability to evaluate premises liability and negligent activity cases so that you get can get the immediate financial assist you need.
How Much Compensation Can You Get?
It depends on the following criteria:
Your present and future medical bills
Assuming the defendant is in fact responsible for your injuries, you'll be compensated for reasonable present and future medical bills related to your injury. If you have soft tissue injuries, for example, clinic records may indicate some future maintenance visits will be required. If you sustain catastrophic injuries, however, a certified life care planner will likely need to be retained to establish future medical costs.
Lost Earning Capacity
Let's say a painter sustained horrible shoulder injuries in a fall that prevented him from ever painting again. If he had to get a desk job making $30,000.00 a year less than what he was previously making and he had planned on painting another 10 years, his loss of earning capacity would be $300,000.00 (discounted to net present value).
Lost Wages
Lost wages are slightly different than loss of earning capacity. This area of damages compensates you for the time you actually missed at work because of your injuries that you did not get paid for.
Pain and Suffering
This is the least predictable of all amounts you can be awarded. It's an unclear area, and it's easy to debate.
Some jurors use economic damages as a sort of "starting point" when considering non-economic damages such as pain and suffering, mental anguish, and physical impairment.
If you will walk with a limp the rest of your life because of your slip-and-fall, you may get awarded 5 times the value of your medical bills as compensation. If you'll be fine in a month, however, that multiplier might only be 1 times the value of your medical costs or less.
Attorneys and insurance adjusters debate these numbers, and they're impossible to predict. So, just take these as examples and not a hard-and-fast rule.
This article and damages calculator can give you a ballpark idea of how much pain and suffering you could collect.
Remember, however, that at Mullen & Mullen we don't believe some arbitrary amount of medical bills has any bearing on your case when you've sustained catastrophic injuries. We recently settled a case pre-suit for 2.6 million dollars (all remaining available policy limits) in which our client's recoverable medical bills were only slightly above six figures. His medical bills could have been $1.00 and we would have still insisted on the full policy limits given the serious nature of his injuries.
Loss of consortium (ability to have a relationship with family members)
One example of this involves a man who fell off an improperly constructed scaffolding. He sustained many fractured and broken bones and also became impotent. He was able to collect financial damages for his lost ability to have a sexual relationship with his wife.
Loss of consortium does not typically lead to large awards but in rare cases, like the above, it can.
The skill of your attorney
Legally speaking, no law exists that factors the skill of your attorney towards the final amounts you can win.
Some attorneys are, frankly, better than others. That's why it's important to pick an attorney (You're the boss. You choose who to hire!) you 100% trust to have your best interests in mind. You have no obligation to hire the first attorney you talk to, regardless of how much pressure you might experience. High-integrity injury attorneys don't pressure you to make an immediate decision.
Was it on private commercial property open to the public?
Let's start with the most common injury: you're legally on someone else's private property, usually a large store of some kind. Fortunately for you, there's absolutely no cap for damages in this situation. Currently, the only caps in Texas exist for medical malpractice law to keep insurance premiums for doctors, and therefore medical expenses, down. That said, however, the at-fault party's profitability must be evaluated in situations in which insurance policy limits are offered.
You fall at work
Work accidents get confusing because employers aren't required to carry workers' comp in Texas. When you slip-and-fall at work, you may be able to file a standard personal injury claim against your employer if they are a "non-subscriber", which has no damages cap as you've learned. You, of course, could file a personal injury claim against a third-party if they were responsible for your fall as opposed to your employer.
However, if your injury falls under "workers' comp," (your employer was responsible for your injuries and is a "subscriber") the Texas Department of Insurance calculates a "State Average Weekly Wage" for your type of work. This number is 88% of the average weekly wage in covered employment.
Depending on the severity of your injury, you can get the follow benefits:
Temporary Income Benefits, or 100% of the SAWW
Impairment Income Benefits, or 70% of the SAWW
Supplemental Income Benefits, or 70% of the SAWW
Lifetime Income Benefits, or 100% of the SAWW for the first year you receive these benefits
Death Benefits, or 100% of the SAWW
In layman's terms, know that Workers' Compensation in Texas is a complete mess that does not serve the best interests of employees like you.
Establishing Your Economic Damages
What economic damages might you be entitled to?
Available damages depend on the individual case. Economic damages are those that are readily ascertainable. Generally, the following economic damages are recoverable:
Damages for the medical bills you have already paid or incurred;
Damages for the medical bills you will incur in the future as a result of your injuries;
Damages for lost wages if you missed time from work due to your injuries; and
Damages for loss of earning capacity in the future.
An Example: If you are a truck driver and are injured in a fall and – as a result of your injuries – cannot sit for an extended period of time, you would obviously be unlikely to be able to continue your employment as a truck driver. You would likely need a light job standing on your feet. If the difference between what you made as a truck driver and what you made at your new job was $40,000.00 a year you would be entitled to the difference in pay multiplied by your number of expected remaining work years. This would constitute your lost earning capacity – although it would be discounted to its net present value.
Establishing Your Non-Economic Damages in Slip and fall cases
Available damages depend on the individual case. Non-economic damages are those that are not readily ascertainable. Generally, the following non-economic damages are recoverable:
Damages for your pain and suffering in the past;
Damages for the pain and suffering you will experience in the future;
Damages for physical impairment in the past;
Damages for physical impairment you will experience in the future;
Damages for mental anguish in the past;
Damages for mental anguish you will experience in the future; and
Punitive damages – although these damages are very difficult to obtain.
Contact our attorneys today to discuss the specifics of your potential claim. Find out how our law firm, with over 40 years of experience, can help you.
Call (214) INJURED now or use the form below to request a free consultation. There is never a fee unless we obtain a financial recovery for you.
What to Do and Not Do After a Premises Liability Injury
Just like any other type of accident where legal liability could be involved, you have things you should do and should not do. Do the wrong things, and you can cost yourself a lot of money – or even your entire claim.
Insurers are waiting for you to make the slightest error so that they can minimize or eliminate what they must pay out.
Texas follows the "comparative negligence" rule, which means that you can be held partially responsible for your injuries (reducing your compensation by your percentage of fault).
So, even though the property owner's insurer might not get away without paying entirely, they hope to (and might) be able to get away with paying much less.
If you know what to do and not do after your slip and fall, however, you minimize the chance that your compensation is reduced or lost entirely.
Here's what to pay attention to:
Do get medical attention immediately.
Every day you wait to receive the medical care you need could reduce the amount you recover since insurance companies love to argue delayed treatment means you really weren't even injured at all.
In addition, you may have more serious injuries than you even realize. Even though you'll feel tempted to just shake it off and move on, you're playing it safe to see a doctor and get checked out. The very worst that happens is that you find out the true extent of your injuries, which helps you create a recovery plan.
Do not miss medical appointments or fail to follow your doctor's orders.
Doing so will likely lead to the property owner's insurer claiming you "failed to mitigate your damages" or, again, were not really that hurt. Your compensation could be dramatically reduced or you might even lose your claim entirely. Remember that most jurors believe actions speak louder than words and that – if you're hurt – you will follow the advice of your doctor(s) in trying to get better.
Do report your slip and fall to the property owner within 24 hours of your accident.
No matter where you are, fill out a report on-site, if possible. If you must go to the emergency room first, make sure to have a friend or family member call back / go back and report your accident. Jurors tend to find reports more credible if they are reported quickly.
Do get a copy of your report.
Whether it came from the police, a landlord, yourself, or the store manager, try and get a written copy of your report in your hands. You don't want your report to magically get "lost" when not in your hands. Many times the at-fault party will even refuse to provide you a copy of the report you completed. Make sure to snap a photograph of the report at a minimum before you hand it over.
Hire an attorney as quickly as possible.
The longer you wait to retain counsel, the more time the at-fault party has to conveniently "lose" evidence. Video evidence, for example, might disappear. The faster you act, the quicker your counsel can demand that the at-fault party preserve all evidence related to your claim.
Do take lots of photos.
This you can't overdo. The more images you have of the accident scene, the better. Get video footage too! Take close-ups and wide-angle views. Take photos of exactly where you fell and of anything that contributed to your fall.
If you are too hurt, ask a friend, family member, or nearby witness to take necessary images for you. Be sure to describe to them exactly what they need to take photos of.
Do not forget to get witness contact information.
Witnesses can be critical to winning or losing a premises liability claim and can also impact how much compensation you might receive. Make sure you get the name, address, and phone number of each witness. Have them text the information to you on-site if possible so that you know for certain you have it.
Do contact a lawyer.
You can attempt to handle the entire legal process on your own without a lawyer, but you put yourself at a severe disadvantage. You risk not winning max compensation and if you say one wrong thing might even lose your claim entirely. At a bare minimum, talk to a lawyer before providing any recorded statement to an insurance company and find out how they can help you.
Do not give the insurer a recorded statement.
It's their goal to use anything you say against you later. They'll twist all sorts of absurd meanings out of what you said. It's best just to avoid talking to them at all. Remember that law does not require you to speak with the insurance company, no matter how much pressure they might put on you.
Do try to figure out what caused your slip and fall.
It's hard to prove your claim without knowing what truly caused you to slip and fall. For example, if the floor was slippery, it's important that you know what made the floor slippery. Did a customer break and spill something? Was the floor wet from recent mopping? Knowing exactly what caused your slip and fall gives you a far stronger claim. Try to have this information, if possible.
Don't sign any insurance company papers without talking to a lawyer first.
Once you sign papers from the insurance company, you'll most likely get a raw deal and never be able to pursue your case formally again. That could mean missing out on a lot of money. Always let a slip and fall lawyer look at the paperwork an insurer sends you first. Then, you at least know for sure if you're getting a fair deal or not.
Do try to determine how long the dangerous condition existed.
Texas law allows property owners time to fix "dangerous conditions" which lead to your injuries. For example, if a customer spills a liquid and you fall on it almost immediately, you likely can't recover compensation for your injuries. That's because the property owner did not have enough time to remedy the dangerous condition.
Do take detailed notes.
You could even shoot a video if you're not a good writer. The point is to get a detailed account of your slip-and-fall on record as soon as you can after the accident. Don't count on the accident report you fill out and give to the store owner. Make sure you have your own account.
Common Misconceptions About Slips and Falls
Just like anything in life, there's how you think things work…and how they really work. Rather than find out well into the process that something in slip and fall claims works differently than you thought, learn ahead of time.
It was just a small fall. You feel fine.
You may not need to go to the emergency room immediately but you should at least report the incident to your doctor and get a checkup ASAP. You may have a more serious injury that doesn't appear immediately, such as a traumatic brain injury (TBI). The adrenaline that arises from the stress of your situation can also mask injuries. It's common to feel basically fine after your fall, but then feel like you got hit by a truck the next morning. So, best to have at least a quick, general checkup from your primary physician.
You shouldn't file a claim. Only greedy, selfish people seek money.
The media perpetuates this emotionally charged distortion of reality to get people to watch their segment or read their story. While some sensational cases do happen, most slip and fall victims only seek fair and reasonable compensation to maintain their current quality of life. Don't feel any shame about pursuing your claim legally.
If you fall and get hurt on someone else's property, you're automatically entitled to money.
You may be entitled to compensation. You might not be.
To win compensation, you must prove the property owner knew, or should have known, of a dangerous condition, but failed to fix it. Texas law also makes it hard to prove your claim. So, the situation is much more complicated than simply getting hurt on someone else's property. It's not impossible. It's just more challenging than you might think at first.
The faster you settle, the better.
It works the reverse. Yes, you may feel you need the money now but generally you're better off waiting. If an insurer makes a fast offer, it's usually because they know that they can get away with paying you much less now. If you wait and let a slip and fall lawyer work through the details of your situation, you'll likely end up winning more. Why would you ever settle if you don't even know the full extent of your injuries or damages?
You won't win that much, so there's no point in filing a complex legal claim.
How much you win depends on your medical costs, lost wages, pain, suffering, loss of consortium, and other factors. It's easy for these costs to end up being much more than you expect. You should at least talk to a lawyer to make sure you're not missing out on money that could maintain your quality of life.
Slips and falls are frequently fraudulent.
Do people sometimes fake a slip and fall to win money? Sure. It happens – but it's rare. The overwhelming majority of slip and fall victims are honest, reasonable people just looking to get fair compensation for their injuries. We only take on claims we believe are 100% legitimate.
Shiny floors are more slippery than less shiny floors.
This at first appears to be the case because you can easily see the shine of a floor. The reality, however, is that the slipperiness of a floor depends more on the maintenance and care it receives.
The greater the slip resistance, the safer the floor.
This is probably generally the case. However, slip-resistant flooring can become tacky, and that tackiness can also easily lead to a slip and fall.
You don't need to retain a lawyer if the insurance company offers to pay.
You can do whatever you want with the insurance company's offer. Almost every time, it's much lower than you could possibly get if you hire a lawyer. They want to make money, and they do it by paying you less than you could get if you hired a slip and fall lawyer. In addition, the insurer's offer likely won't cover all the costs related to your injury. So, you're wise to at least talk to a slip and fall lawyer before accepting the insurer's offer.
You automatically lose if a warning sign was present.
While warning signs do make it harder for you to prevail in your case, they don't make it impossible. For example, a sign may have been placed where only certain patrons could see it. Texas law does not prevent you from pursuing your case if a company negligently displayed the warning.
You may have to go to court several times.
Honestly, if you hire our slip and fall lawyers, you likely won't have to go to court at all. Most of our cases settle during the demand negotiation process. We are dedicated to getting you the best possible result, however, and will never hesitate to recommend filing a lawsuit when litigation is in YOUR best interest but the odds that you'll have to go to court are extremely low.
You can only seek compensation for physical injuries.
The truth is that you can also seek compensation for pain and suffering, mental anguish, and emotional distress.
Dallas Premises Liability Resources
Contact Us for a Free Consultation
Call (214) INJURED to talk to a Dallas premises liability attorney right now. We won't put any pressure on you to hire us on the spot. Simply learn how we'll approach your case and get some excellent free advice. Make your decision only when you feel 100% ready. Do remember though, that the Texas statute of limitations gives you just 2 years from the date of your accident to file a claim.
We'll come to your home or hospital room if it makes it easier on you! Phone and Zoom consultations are also available. You can call us, or use the form or chat feature on this page to request a free consultation now.
FILL OUT THIS FORM TO REQUEST YOUR FREE CONSULTATION NOW
Fast Attorney Response

Mullen & Mullen Law Firm
1825 Market Center Blvd #200
Dallas, TX 75207
(214) INJURED
Seriously Hurt? We'll Come to You!
Find Our 350+ 5-Star Reviews Here
Popular Links
Slip and fall, Premises liability attorneys in Plano, TX
Slip and fall, Premises liability attorneys in Frisco, TX
Slip and fall, Premises liability attorneys in Fort Worth, TX
Suggested Reading
$907,500 Settlement for construction worker injured in fall in Dallas, TX
The top reason slip and fall cases are not successful
How does Texas law operate when you fall at your job site?
What are the top conditions leading to slip and fall injury claims?
Shane V. Mullen is an attorney licensed by the State of Texas for the general practice of law, and the Managing Partner at Mullen & Mullen Law Firm in Dallas, TX. His firm focuses exclusively on personal injury law and has been in business for 40 years (since 1983). Before becoming a lawyer, Shane worked for his father as an accident injury claims investigator.